| Deutsch
---
W N 8
Software for Calculation of Serration Splines
(C) Copyright 2005-2022 by HEXAGON Software, Berlin
---
WN8 Software for Calculation of Serration Splines to DIN 5481
WN8 calculates dimensions and load bearing capacity of serrations with straight flanks according to DIN 5481. A true-scale drawing of the spline is generated by WN8 and may be exported as CAD file. Material data are loaded from the integrated material database.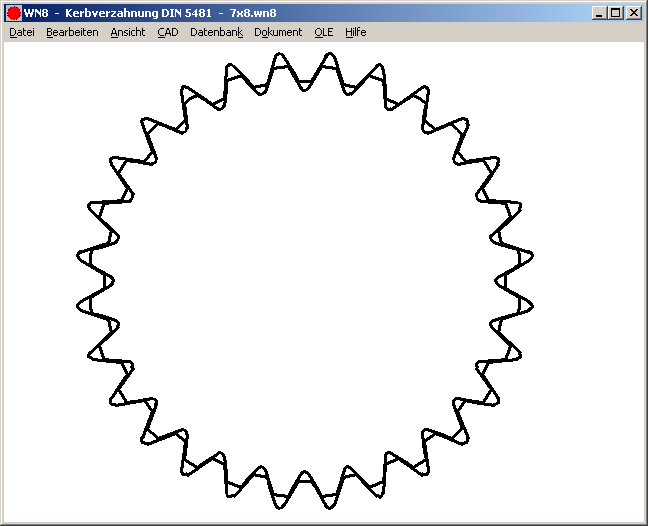 ---
Pre-Dimension
In Pre-Dimension, WN8 calculates a suitable spline size for the required transferable torque.
---
Dimensions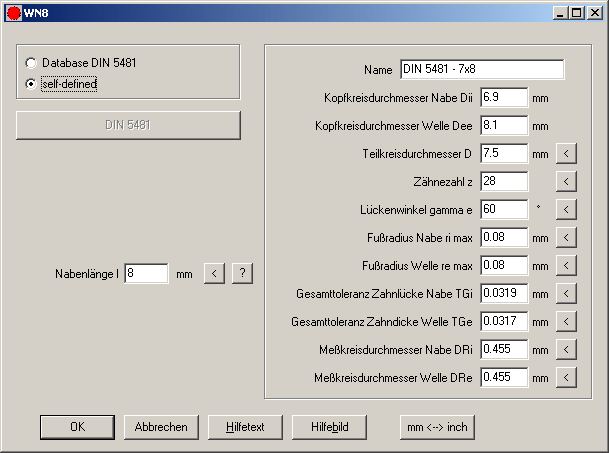 Standard sizes to DIN 5481 may be selected from integrated database. Or you can enter dimensions for self-defined serration splines.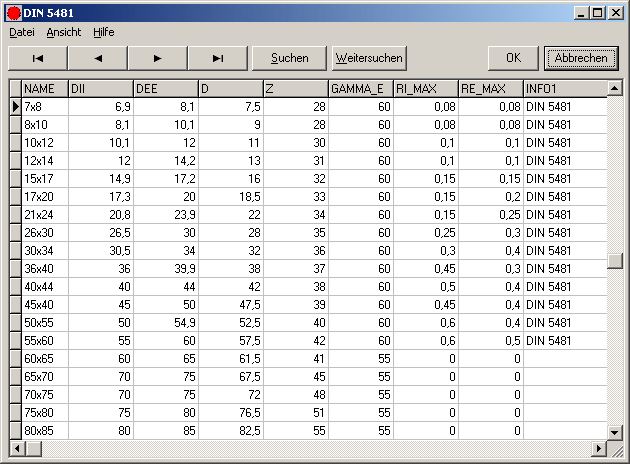 ---
Material database
Integrated material database includes strength values for the most common steeel materials, and may be extended by the user.
---
Load Capacity
Safety against bearable flank pressure is calculated according to Niemann (Maschinenelemente Band 1, 2005)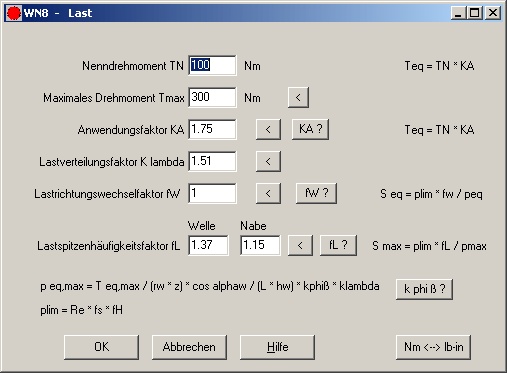 ---
Quick View
Profile drawing and tables with most important dimensions and results on one screen.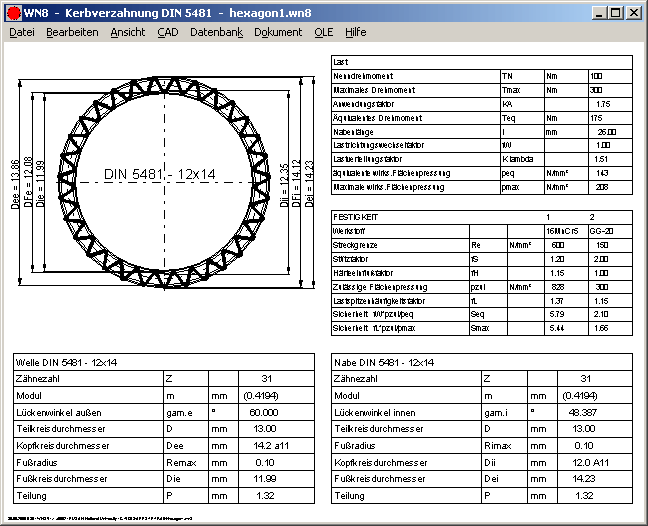 ---
Printout
Calculation results may be printed, saved as HTML table, or directly exported to MS-Excel.
---
Tables and Drawings
WN8 generates true-scale drawing of shaft and hub profile which may be exported to CAD by DXF or IGES file. Tables with dimensions and tolerances are also generated by WN8.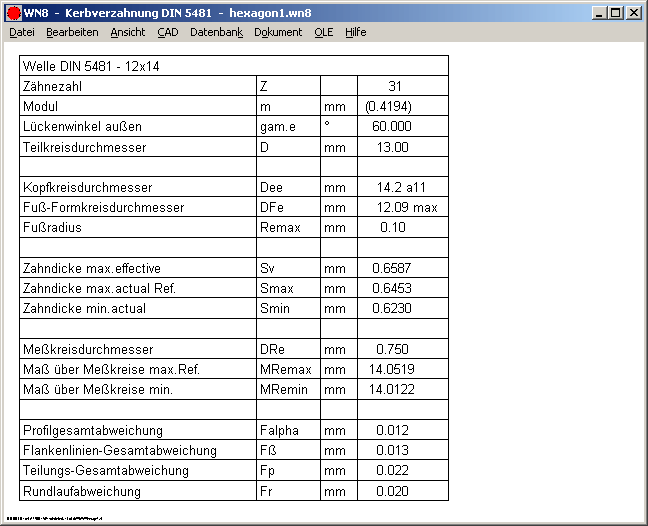 ---
Production Drawing
WN8 generates a production drawing with tooth profile and dimensions for external spline (shaft) and internal spline (hub). Drawing information and modification index is entered in WN8.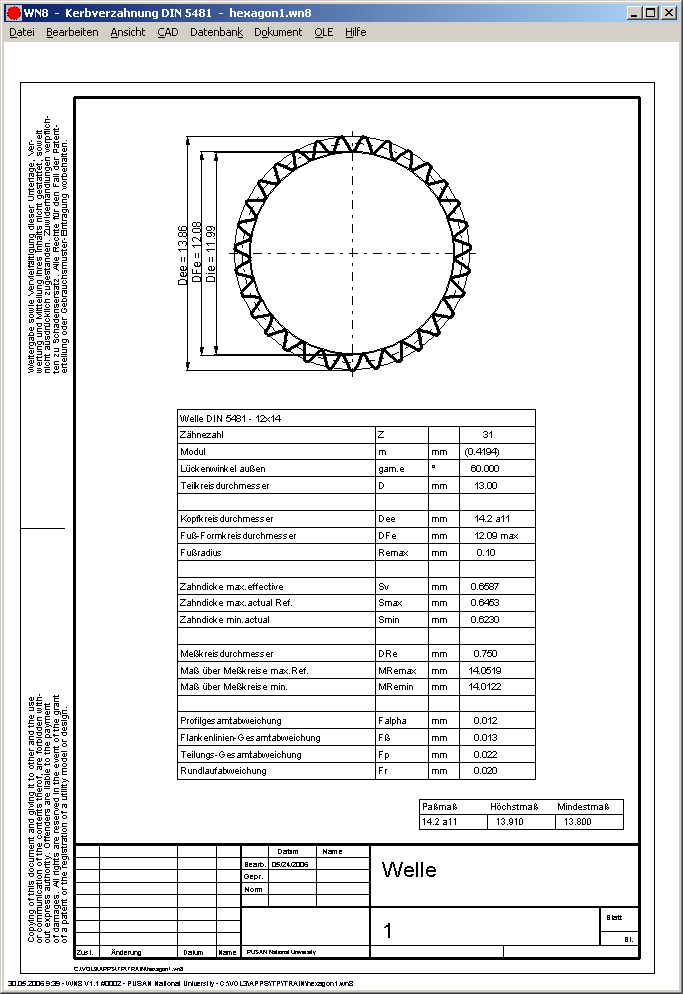 ---
HEXAGON-Help System
Auxiliary text and images are available for all dialogue windows. If error messages occur, you can get description and remedy suggestion.
---
Interfaces
All drawings and diagrams can be saved as DXF or IGES file to be loaded with CAD programs.
The OLE interface lets you import/export data from/to Excel.
---
Export Formats
DXF, IGES, STL, HTML, TXT, DBF, Excel, WN8.
---
Import Formats
TXT, DBF, Excel, WN8.
---
System Requirements
WN8 is available as 32-bit and 64-bit application for Windows 11, Windows 10, Windows 8, Windows 7.
---
---
Pricelist | Order | E-Mail | Home