English Deutsch
---
Info Letter No. 78 - March/April 2003
by Fritz Ruoss
---
WN1 calculates Tapered Interfence Fits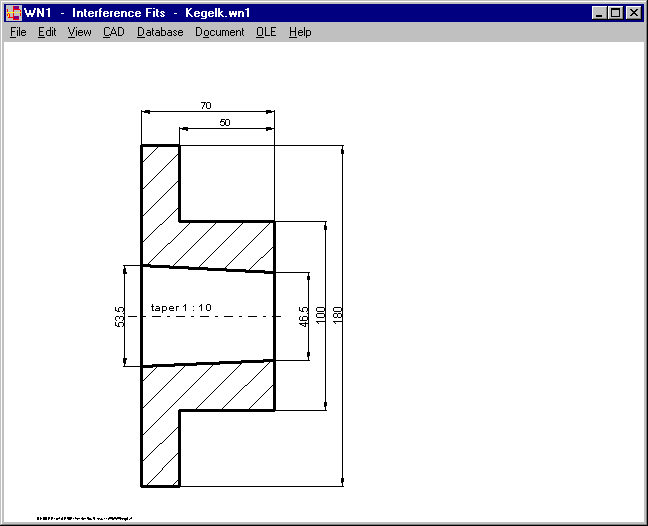 You can choose to calculate a cylindrical or conical interference fit using new version 9.0 of WN1. Cone angle or taper ratio can be entered at dimension input window. WN1 calculates axial mounting force, dismantling force, and required axial penetration.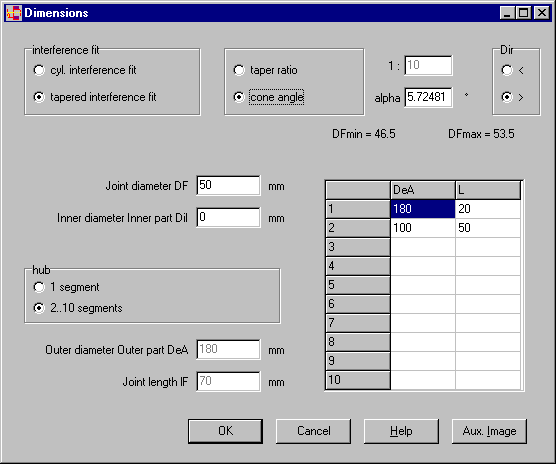 To calculate parameters for oil injection method, set friction coefficient nue ll to the recommended value (0.02 for mounting/dismantling procedure according to SKF).
---
WN1 - Form Sheet for Auditors Certificate
Certificate for shaft and hub has been adapted to DIN EN 10024.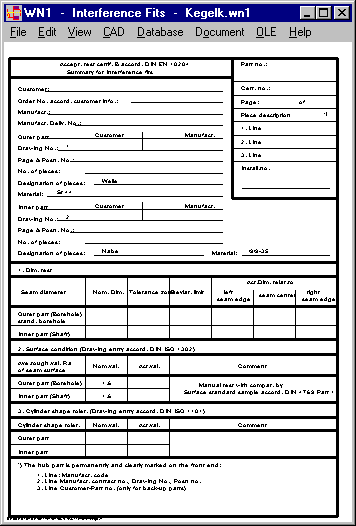 ---
WN1 - Material Description
Material number and new material name according to new EN European Standard was added to material input window and database.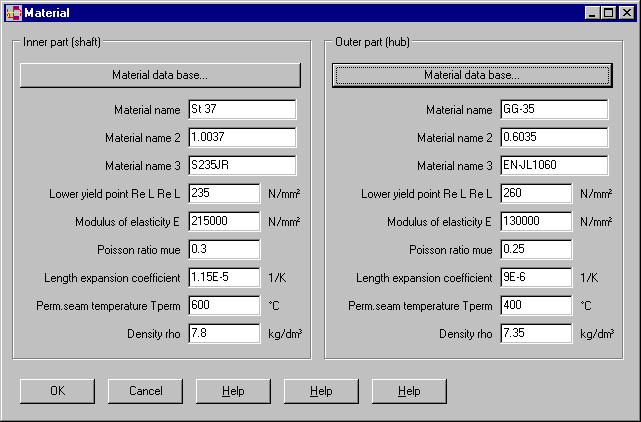 ---
TOL1 - Excel Import/Export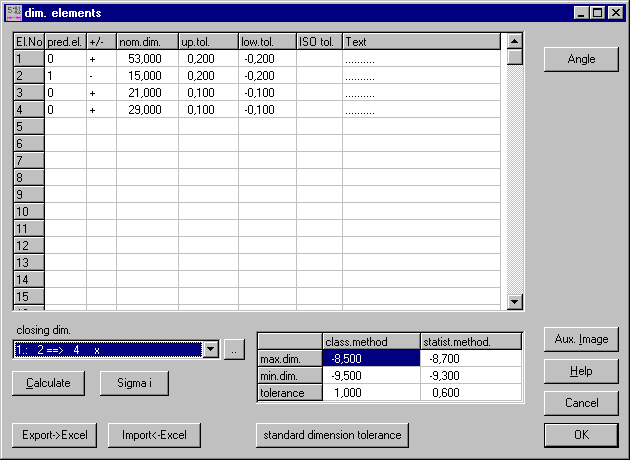 Element table input window has new Import/Export buttons: Export button copies element table into an Excel worksheet. Or you can create element table in Excel and load it into TOL1.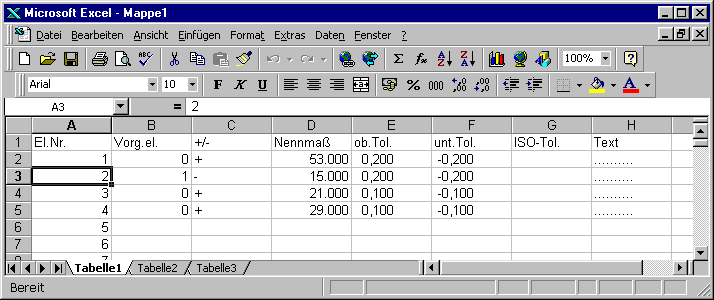 ---
TOL1 - Input Window for Bevels
A new input window has been added for conversion of bevel dimensions into the coordinate system. Enter angle and dimension in y direction, TOL1 calculates nominal dimension and tolerances in x direction.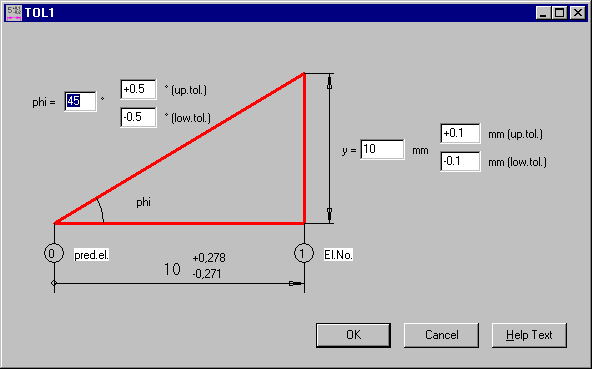 ---
SR1 - Database Changes
There there some wrong material values in VDI 2230 of 2001. Changes of VDI 2230-2003 against edition of 2001 for cast iron:
GJL-250 (GG-25): tauB from 350 into 290 (taub_rm from 1.4 into 1.1), pG from 900 into 850
GJL-260 Cr (GG-26 Cr): tauB from 350 into 290 (taub_rm from 1.4 into 1.1)
GJS-400 (GGG-40): pG from 700 into 600, E-Module from 160000 into 169000
GJS-500 (GGG-50): pG from 900 into 750, E-Module from 160000 into 169000
GJS-600 (GGG-60): pG from 1000 into 900, E-Module from 160000 into 174000
Factor TauB/Rm for calculation of thread strip safety according to VDI 2230 had to be changed for all GJL materials from 1.4 into 1.1. The beta_m coefficient for calculation of thread strip safety according to Dose needs no changes: it has proved to be the correct one.
You can download the modified material databases for clamping plates and nuts at www.hexagon.de/history/files/eng.
---
WN4 - Max. Backlash Control
Maximum backlash control cv max is calculated from Svmax - tvmin = 2 * m * f. New items have been added to printout: cvmax, tvmin, tmax, Svmax, Smin.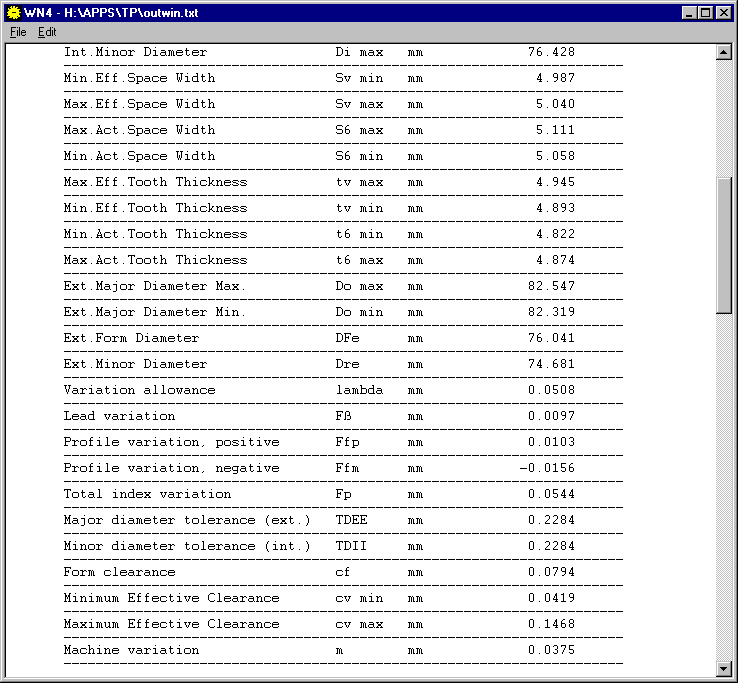 ---
FED12 - Software for Rubber Springs
Load-path characteristic of rubber springs and elastomere springs is progressive, because compression section increases, and because modulus of elasticity depends on a form coefficient. Form coefficient k is the ratio between compression area and shell area.
FED12 calculates cylindrical elastomere compression springs with and w/o bore hole. Material is selected from database, includes rubber with Shore hardness of 32,44,54,67,72 A, and Urelast 90 Shore A.
FED12 generates diagrams of load-compression curve, spring rate and E module. And it generates true scale spring drawings, or a production drawing on printer or as DXF and IGES file.
An animation simulates deformation of the elastomere spring under load.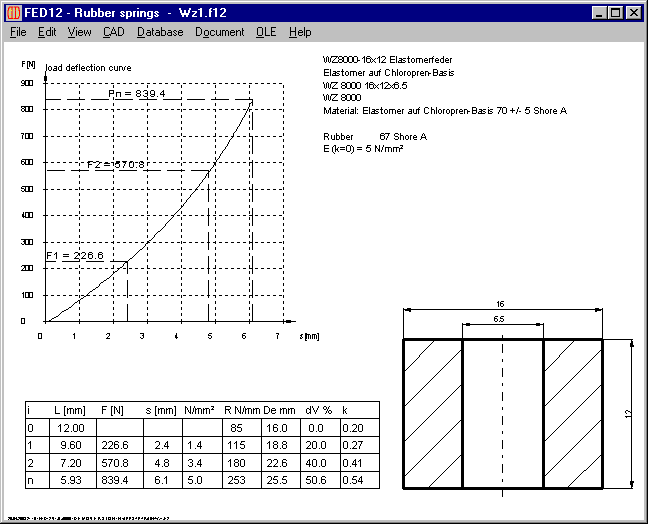 FED12 is available from 1.6.2003 for a price of 220 Euro.
---
Pricelist | Order | Update Order | E-Mail | Homepage