English Deutsch
---
Info Letter No. 71 - January/February 2002
Copyright by HEXAGON Software 2002
by Fritz Ruoss
---
WN6 - Polygon Profiles P3G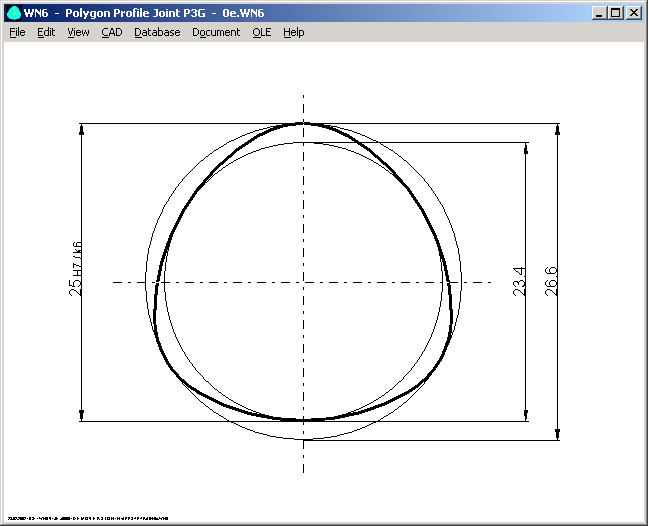 New WN6 software calculates dimensions and strength of shaft/hub joints with P3G polygon profile to DIN 32711. Material and P3G profiles from 14 mm up to 100 mm can be selected from database. P3G-Profile may be exported to CAD via DXF or IGES file.
Quick-View shows profile together with tables of geometry and calculation results.
Drawing may be printed directly, or you can create DXF or IGES file and load it into CAD.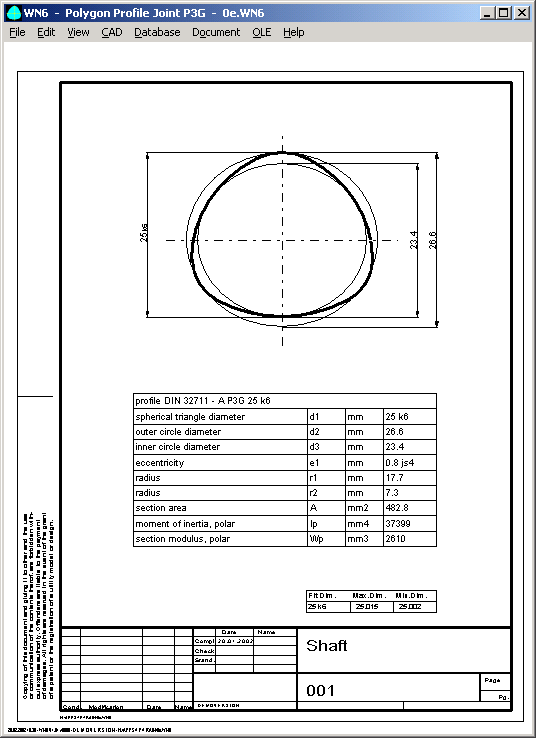 WN6 is available now for 180 Euros or US-Dollars. More info and demo version for download at http://www.hexagon.de/wn6_d.htm.
---
TOL1 Sigma Conversion
Better use only one global sigma distribution coefficient for all dimensions, instead of several sigma factors for different dimensions. TOL1 got a new Window to convert the dimensions: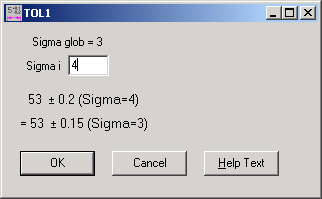 The conversion for tolerances with normal distribution (Gaussian curve) is easy:
New tolerance = old tolerance * Sigma glob / Sigma i
Example: Dimensions 5+/-0.1 must fulfil Sigma = 4, all other tolerances Sigma=3.
Remedy: New dimension is 5+/-0.075. This is equivalent to 5 +/- 0.1 for sigma = 4.
---
TOL2 - Modify and Delete Groups
Improvements at modification of group elements: TOL1 filename is now displayed automatically.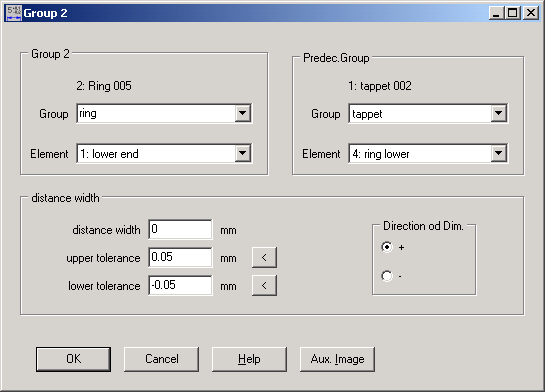 The old versions had a bug then deleting groups: always the last group was deleted instead of the selected one.
---
TOLPASS - Table
You can enter a table with up to 20 ISO tolerances in TOLPASS now.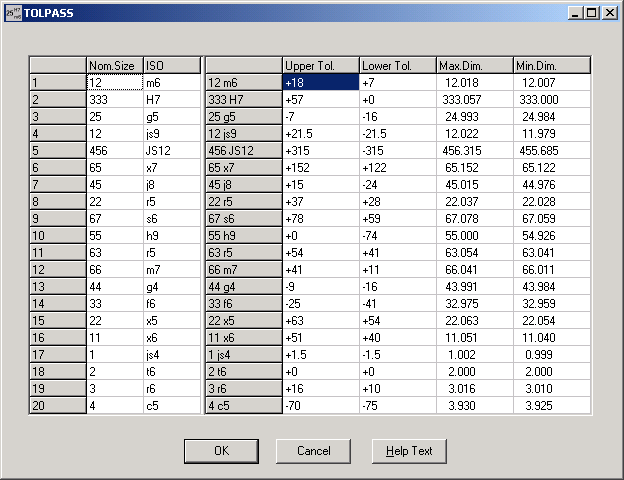 Table with ISO Tolerances and Max./Min. values may be exported to CAD as DXF or IGES file.
Table 1: Fit dim., upper and lower tolerance
Table 2: Fit dim., upper and lower tolerance, min. and max. dimension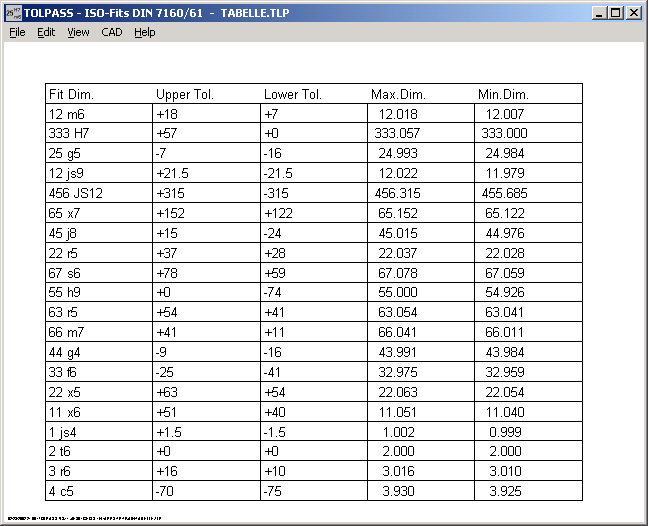 ---
FED4 – Database
A database with disk springs has been added to FED4. Database may be appended by the user, or replaced by catalogues of disk spring manufacturers.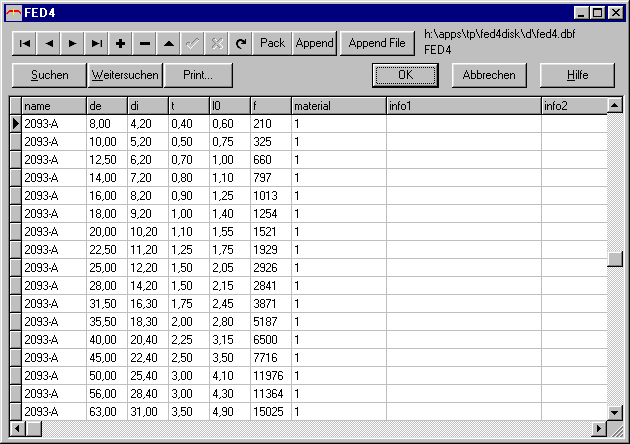 ---
Lifetime of Springs
"The spring software calculates a lifetime of only 50.000 cycles for a spring that broke after 1 million cycles!" a customer tells me. That is easy to declare. See the Goodman chart below.
For a maximum stress of 1320 N/mm˛, the spring makes 100.000 cycles, at 1170 N/mm˛ already 1 Million, and at 1020 N/mm˛ it is fatigue strength safe. Same effect for the inverse case: produced from a spring wire with a tensile strength of 1900 N/mm˛ +/- 12,5%, the springs will bear between 100.000 cycles (Rm=1660N/mm˛) and infinite cycles (Rm=2140 N/mm˛). A deviation of 10% at tensile strength can cause a deviation in life expectation of more than 1000% !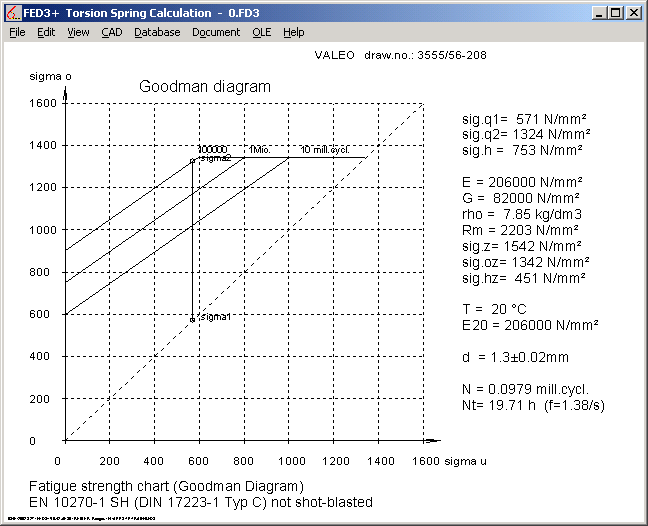 ---
FED7 – Tolerances by Quality Grade
New version of FED7 calculates tolerances of L0, F1, F2, e1, e2, based on a cylindrical reference spring.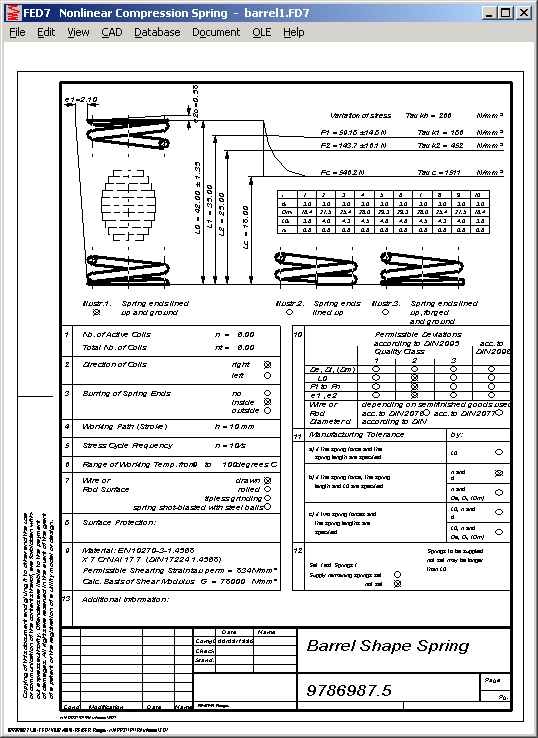 ---
FED2 - EDI Interface
New version of FED2+ can exchange data with other programs via EDI text files.
---
FED2 – Error messages for LH>>Dm
FED2 generates error messages for half and full German loop, if loop height is not between 0.5 .. 0.8 Dm or 0.8 .. 1.1 Dm.
---
WL1+ Shear Stress from Path Load
If option "Consider shear stress/pressure" is set, WL1+ considers not only radial forces, but also path load now for calculation of shear stress. This option influences short, thick shafts only. For all other cases, bending stress is much higher than shear stress.
---
WN4 – Table to SAE
"Major diameter" and "Minor diameter" had to be exchanged, according to SAE standard, as well as form diameters of shaft and hub.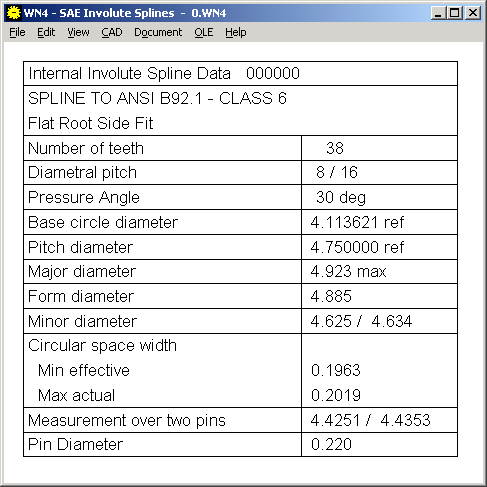 ---
SR1 – New Auxiliary Pictures about Safety Factors
Thanks to RS Technologies for new creating new auxiliary images with formulas and description of the safety factors.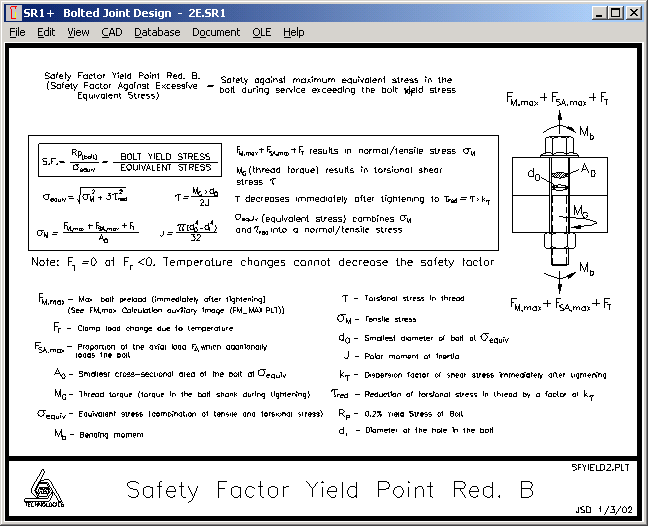 ---
SR1 - Thread Tolerance and Thread Strip Safety
New SR1 calculates tolerances of external threads to class 6h, 4h, 6g, 4g, 6e, 4e. For internal threads, you can select between 6H, 5H, 4H, 6G, 5G, 4G. SR1 calculates min and max diameter of d, d2, D1, D2.
---
SR1 - Safety Factors
SR1 calculates safety factors for thread strip safety according to the formulas of Dose, because new VDI 2230 calculation is not corresponding with Dose values nor with VDI 2230 curves.
In difference to VDI 2230, Safety factor SF and effective stress Sigma red,B of SR1 considers bending stress Sigma Sabo in case of eccentric applications.
---
File Menu - Reload previous Files
A new feature to load and switch between the four previous sessions has been added to all HEXAGON programs.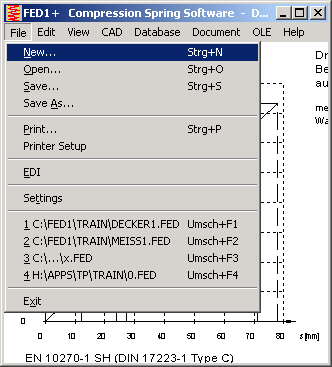 ---
Printout with Ctrl-P
Shortcut Ctrl-P opens printer configuration Window to print screen graphic.
---
French Versions of the Spring Programs
Some technical terms had to be corrected at the French translation of the spring programs.
A French version of the FED10 software for leaf springs is available now.
---
Pricelist | Order | Update Order | E-Mail | Homepage