English Deutsch
---
Info Letter No. 143 - Jan. /Feb. 2014
by Fritz Ruoss
---
ZAR5 – Quick3
New Quick3 View provides a planet gear drawing in front view and profile, Wolf power distribution draft, and tables with dimensions and strength data of sun wheel (S), planet wheel (P) and hollow wheel (H).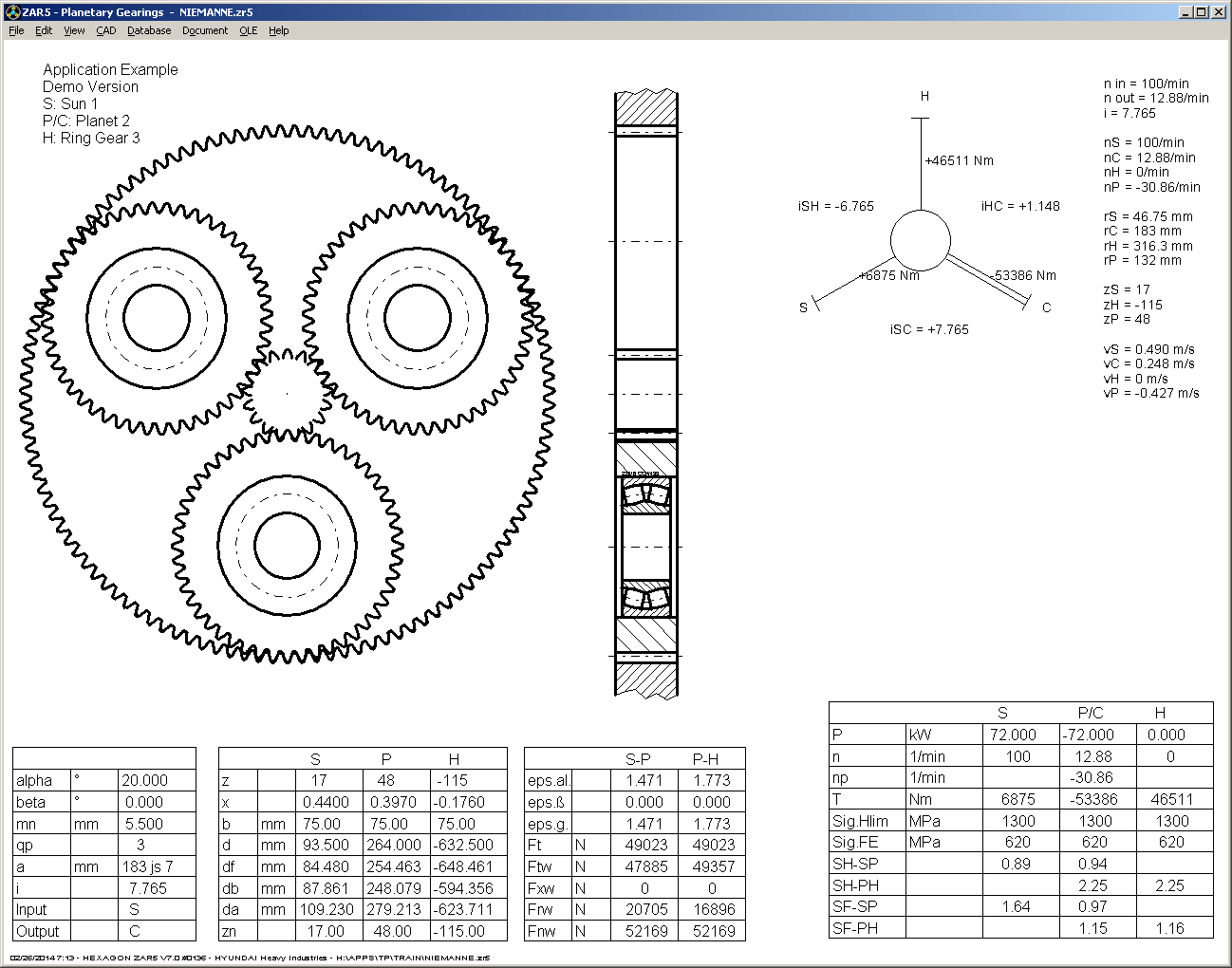 A "production drawing Quick3" as known from other programs is not available in ZAR5: too much data to fit into an A4 drawing frame. But a new "Production Drawing Quick4" is available now in ZAR5, with all data and drawings from Quick3, completed with tables of dimensions and measurement data of sun, planet and hollow gear, altogether in an A3 drawing frame according to ISO 7200 or DIN 6771.
---
ZAR5 – Quick4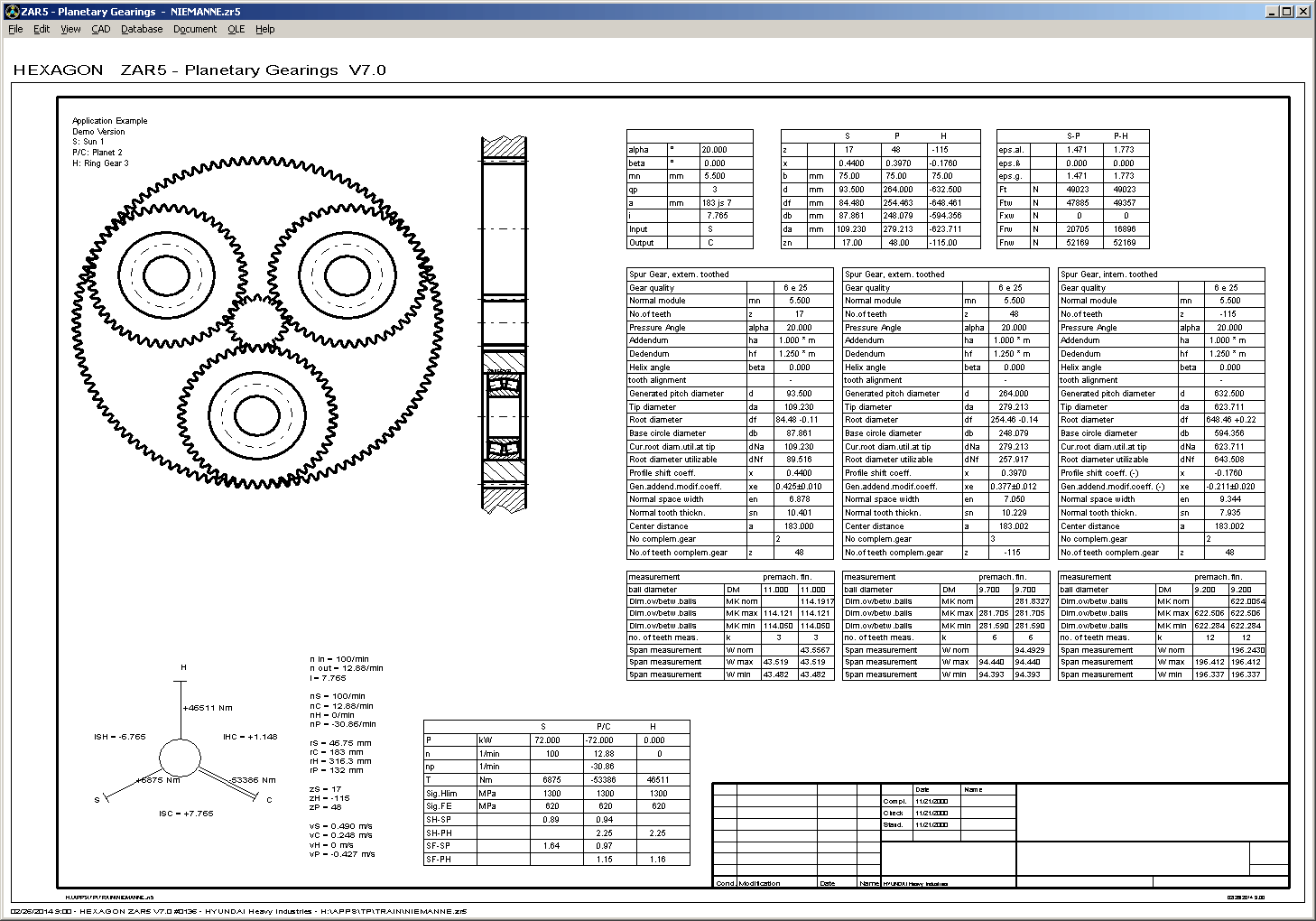 ---
ZAR5 – Table
Tables of Toothing, Measure, Tolerances and Roll angle for sun, planet and hollow gear have been added at View->Table.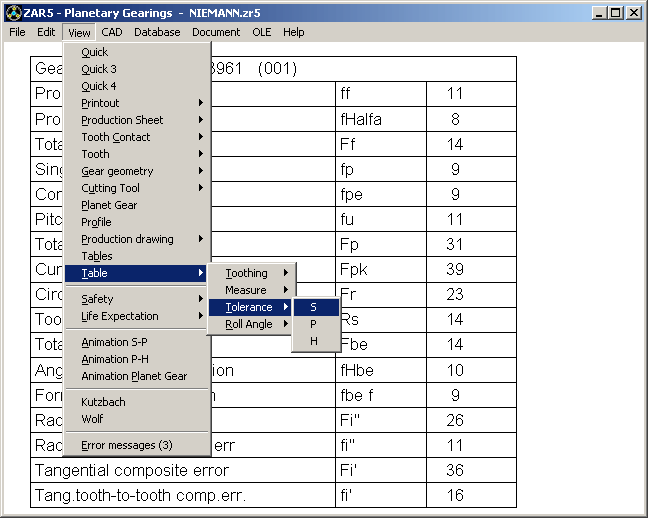 ---
WST1 – Stress-Number Diagram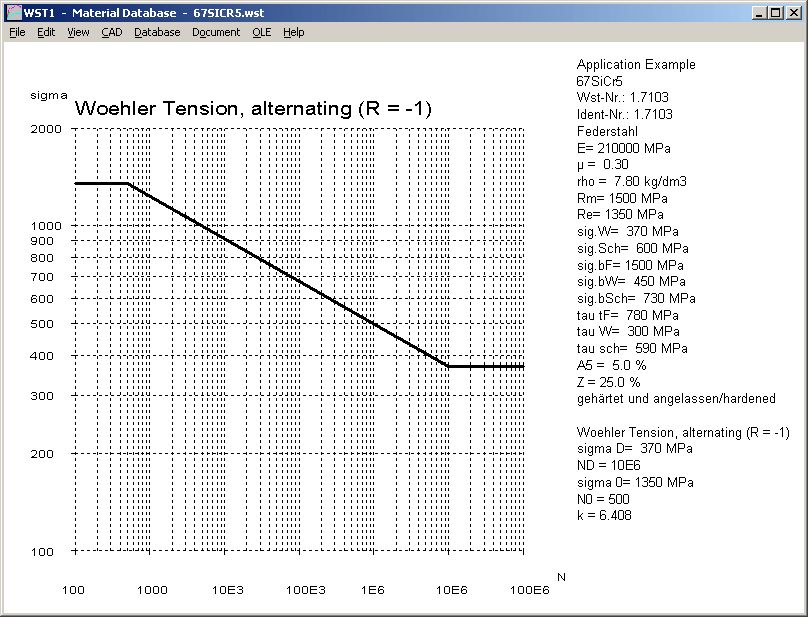 Experimental determination of the SN diagram is expensive, because multiple material samples must be stressed with different amplitudes until failure. After that, maximum stress and number of load cycles of each sample is marked in a double logarithmic diagram, and an average curve drawn in the cloud of points.
Fatigue strength and finite life range depends on crack formation and crack propagation. If stress type is bending or torsion, maximum stress occurs in the surface. Cracking in the surface can be reduced by high surface finish (grinding, polishing) and additional surface hardening by shot-blasting.
Fatigue strength and SN curve not only depend on material and heat treatment, but also surface quality. There is no typical SN curve for one material, there are multiple SN curves depending on multiple factors:
Stress type: tension/pressure, bending, torsion
Stress ratio R maximum stress / minimum stress: -1=alternating, 0=pulsating
inner structure, heat treatment
surface: drawn, mould, machined, ground, polished
surface hardening: shot-blasted
A synthetic SN diagram can be constructed by means of fatigue strength sigma D and corespondent edge number of stress reversals. For steel materials, ND is about 2 million load cycles. Furthermore we need the gradient of the SN curve in finite life range, and the static strength. Or the edge number of stress reversals for the transition from static range into finite life range.
In WST1, you can now create a simple SN diagram. First select load case (tension, bending, torsion) and stress ratio (alternating load, pulsating load). Then you can use "<" buttons to set fatigue strength Sigma D and static strength from material database (if available). ND is set 2E6, and N0=1000 by default.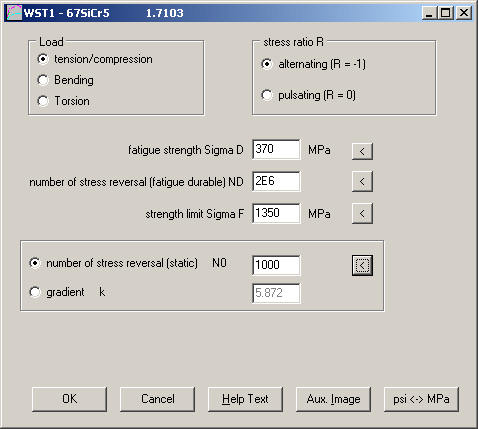 ---
ZAR1+ Quick4
In Quick4 View of ZAR1+, tolerance table gear 2 has been added, and other tables re-arranged.
---
FED3+ Production Drawing Quick3
Drawings and tables from Quick3 View now available in an A4 drawing frame.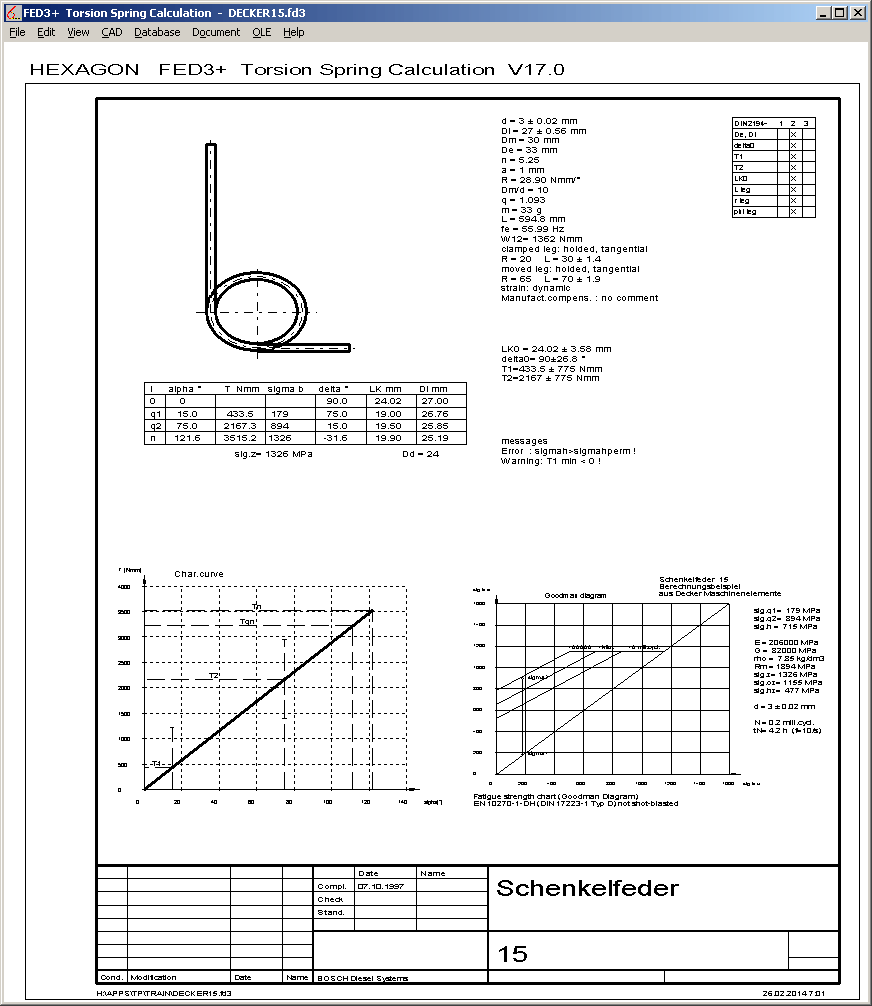 ---
FED3+ Quick4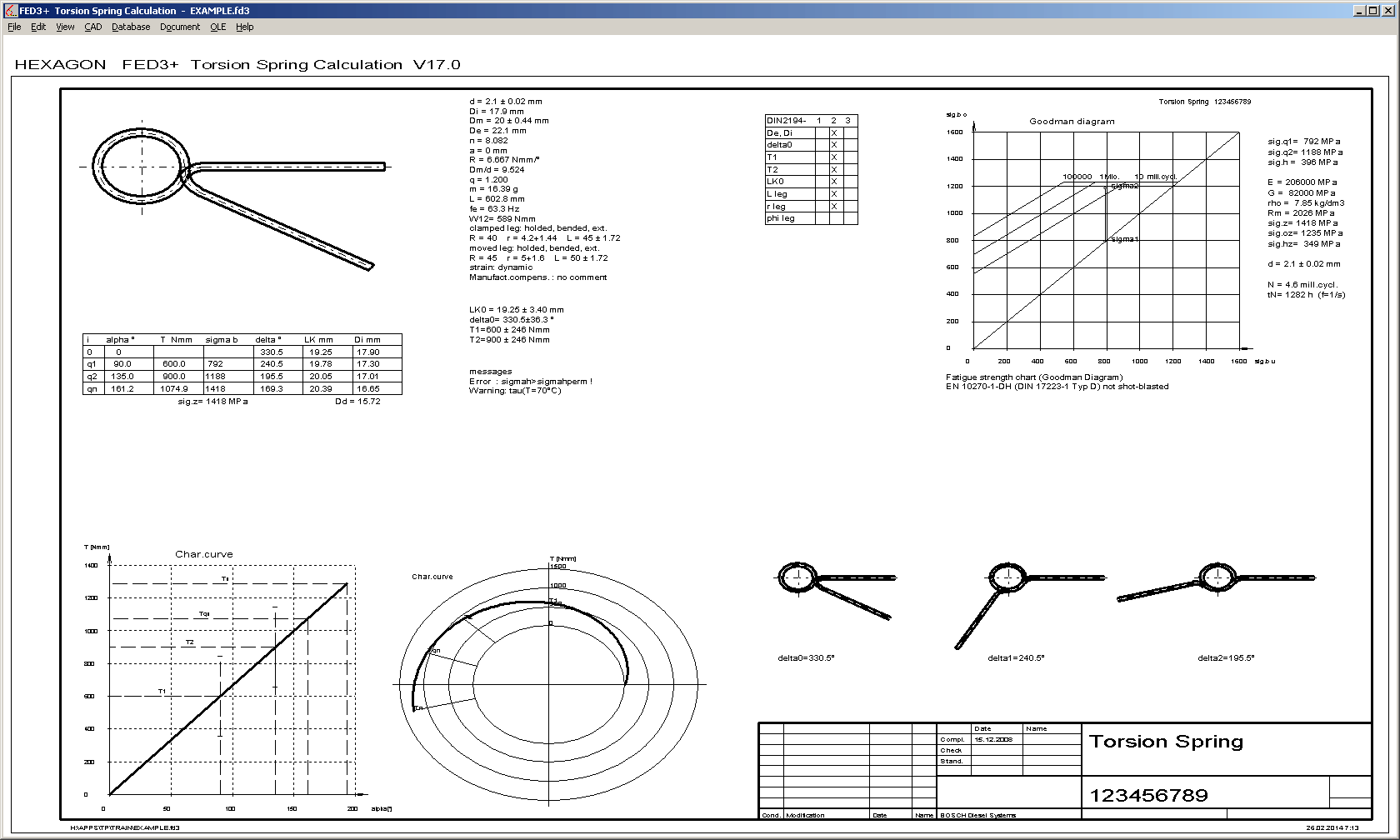 New Quick4 View includes all the data from Quick3, and additionally a polar load-angle diagram and spring drawings in positions 0, 1, and 2, altogether in an A3 drawing frame.
---
FED9 - Quick3 with Side View
Side view of spiral spring has been added to Quick3 View.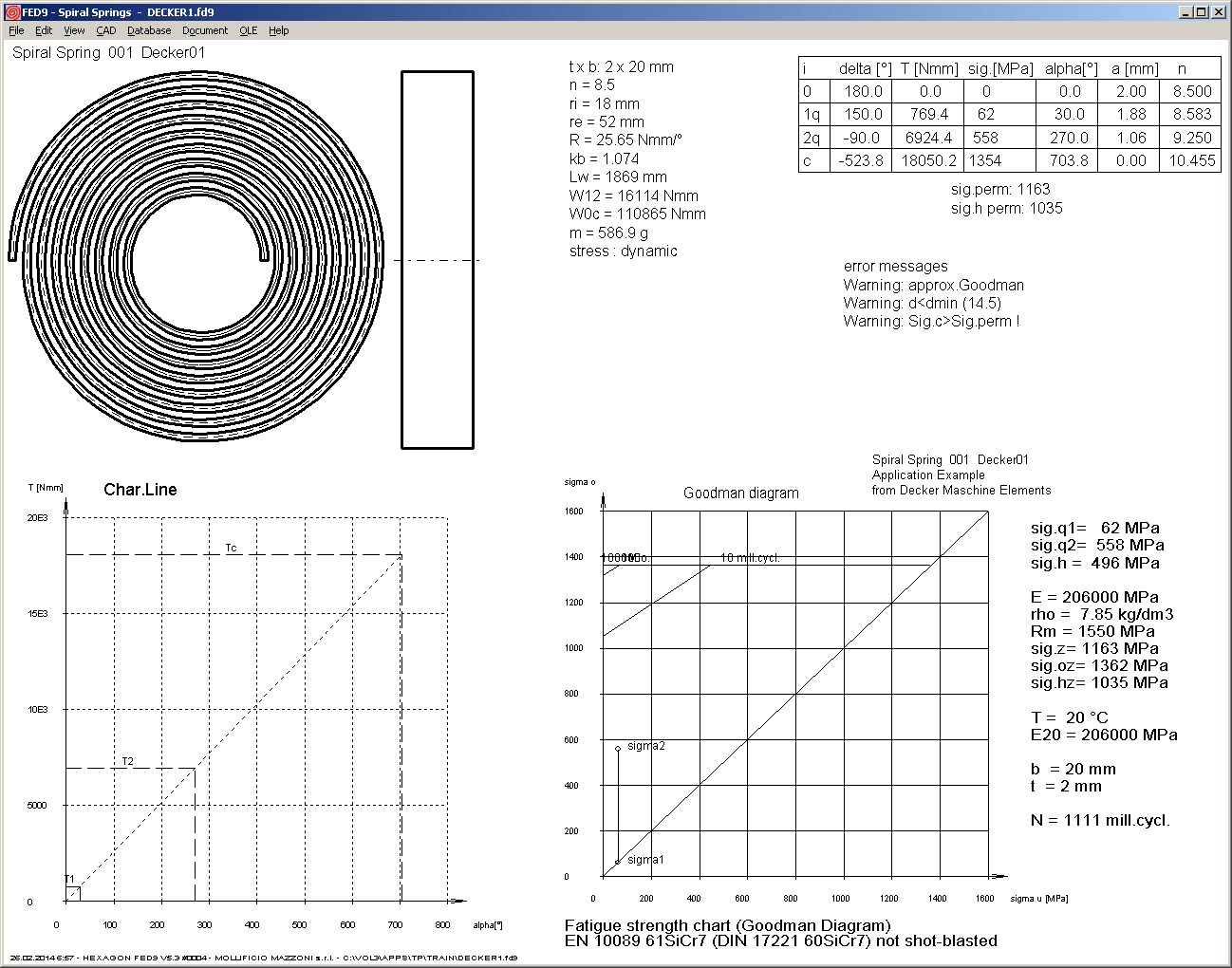 ---
FED13 – load-extension diagram lbf-in
If switched to English units, load-extension diagram now in lbf-in.
---
FED2+ Fatigue Life Loop
Plus version of FED2 calculates not only fatigue life of the spring body, but also fatigue life of the loop. But number of load cycles was calculated inaccurate, the printed value was bit higher than shown in Goodman diagram. This was corrected now. Furthermore, load cycles and life expectation of the loop have been added in the printout (FED2+ only).
---
WN2+ Tooth Alignment Deviation
Tooth alignment deviation F beta according to DIN 3961 has been added to the printout.
---
Configure Colors
We have improved configuration of colors in all programs. Colors 1 until 16 are no longer fixed to certain colors, now click into the color field to configure the color that you want.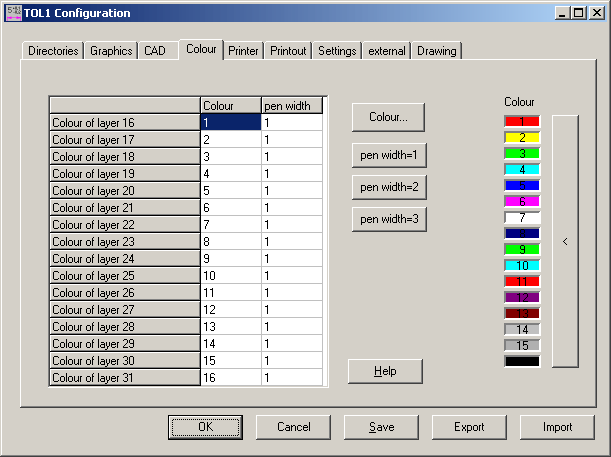 New options are useful for print on color printer, now you can configure the colors for good legibility.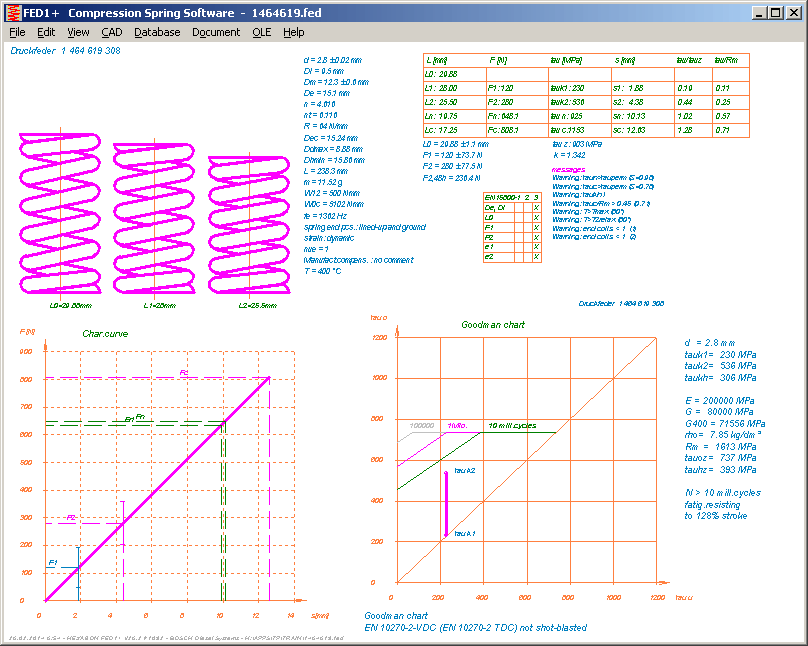 A new Export button has been added to export settings to other HEXAGON programs.
---
Download Link only temporary
If you order software, you get a download link for a zip file. Please consider that the zip file will be erased after download. If you lost your program, the zip file is no longer available for download., and you must invest 40 EUR per program for an update. We recommend to unpack the zip file and then burn on CD-ROM. If you have saved the zip file, but lost the unzip password, try the 4-digit license number, or the invoice number.
---
Pricelist | Order | E-Mail | Homepage