English Deutsch
---
Info Letter No. 121 - May / June 2010
by Fritz Ruoss
---
LG1, WL1+, ZAR5: Roller Bearing Database Updated
Roller bearing database included in LG1, WL1+ and ZAR5 have been updated. Data for rated load and speed limit have been modified for grooved ball bearings, and new sizes have been added to self-aligning ball bearings, cylindrical roller bearings and taper roller bearings. Intrinsic fatigue resistance Cu used for calculation of modified reference rating life according to DIN ISO 281 has been added in all database files. Because of the modified field structure, old roller bearing dbf files are no longer usable together with new versions of LG1, WL1+ and ZAR5.
Grooved ball bearings: old bearing data (SKF 1990) replaced by actualized bearing data (SKF, INA, NSK)
Self-aligning ball bearings: d = 150 .. 240 mm added
Cylinder roller bearings: d = 460 .. 800 mm added
Taper roller bearing: d = 320 .. 360 mm added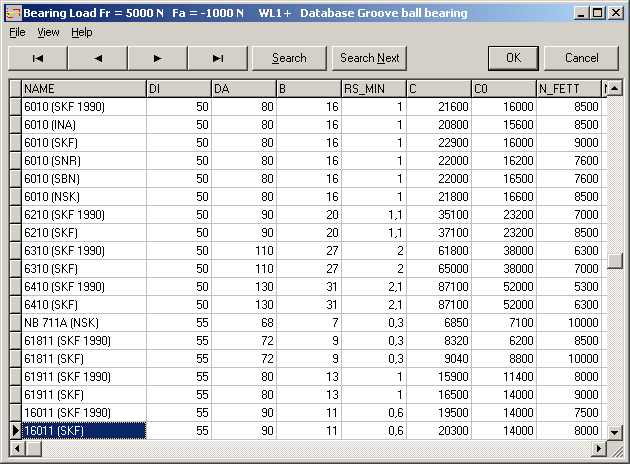 ---
LG1, WL1+, ZAR5: Modified Reference Rating Life according to DIN ISO 281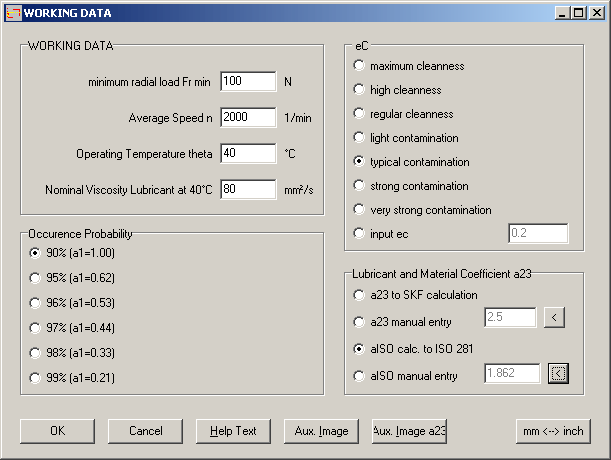 As alternative to the modified rating life Lna to SKF method, you can now calculate the modified reference rating life according to DIN ISO 281, that depends on lubrication and cleanliness of the roller bearing and is based on the fatigue limit load Cu. All the roller bearing databases have been extended by the "CU" field. If you choose calculation to DIN ISO 281, you have to select cleanliness from table, or input the ec coefficient.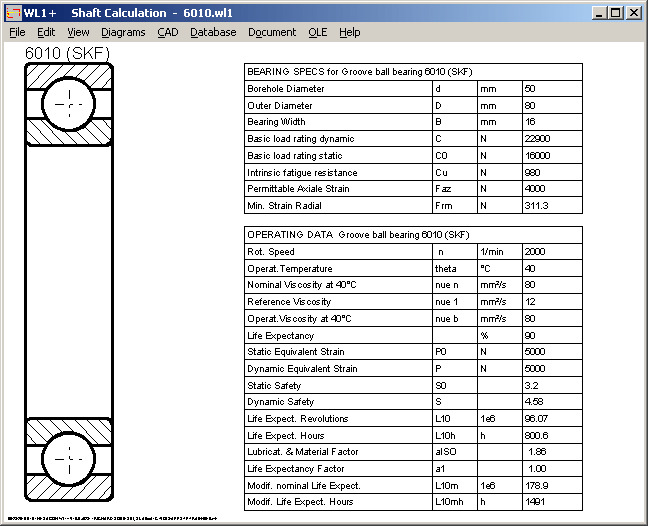 ---
FED1+ Coil Pitch P (m)
In January 2010, coil pitch calculation had been modified. In earlier versions, formula according to EN 13906-1 was used:
m = (L0 - d) / n for spring ends lined up and ground
m = (L0 - 2,5 d) / n for spring end lined up
These formulas do not consider number of end coils, in fact they are suitable only for 1 end coil (0.5 per end).
FED1+ uses now this formula for coil pitch calculation.
P = (L0 - Lc) / n + d
This formula is now also be used for calculating the increase of coil diameter under load until block (delta De).
---
FED1+ Coil Distance
Distance between coils (= pitch P - wire diameter d) has been added to the printout.
---
FED6 Coil Pitch
For nonlinear compression springs, increase of coil diameter under block load deltaDe is different for each section. Until now, average expansion was calculated by use of the EN 13906 formula. Now, FED6 calculates the maximum expansion of the coil diameter on block.

---
FED1+, FED9: Spring Energy W0c
Maximum spring energy (between unloaded length L0 and block length Lc) has been added to the printout. Compared with spring energy W12 (between L1 and L2) you can evaluate efficiency of the spring for your application.
---
FED1+.. FED9: Quick3: Material Data for Static Load
If static load defined, no Goodman diagram is printed in Quick3 view. This place is filled with material data and description in this case.
---
FED1+ Quick3: Tolerances for L0, F1, F2
Tolerances of unloaded length L0 and of spring loads F1 and F2 have been added to Quick3 view.
---
FED1+ 2+ 3+ 5 : Quick3: Table with Tolerance Grades
A small table with tolerance grades according to EN 15800, similar than in production drawings, has been added to Quick3 view.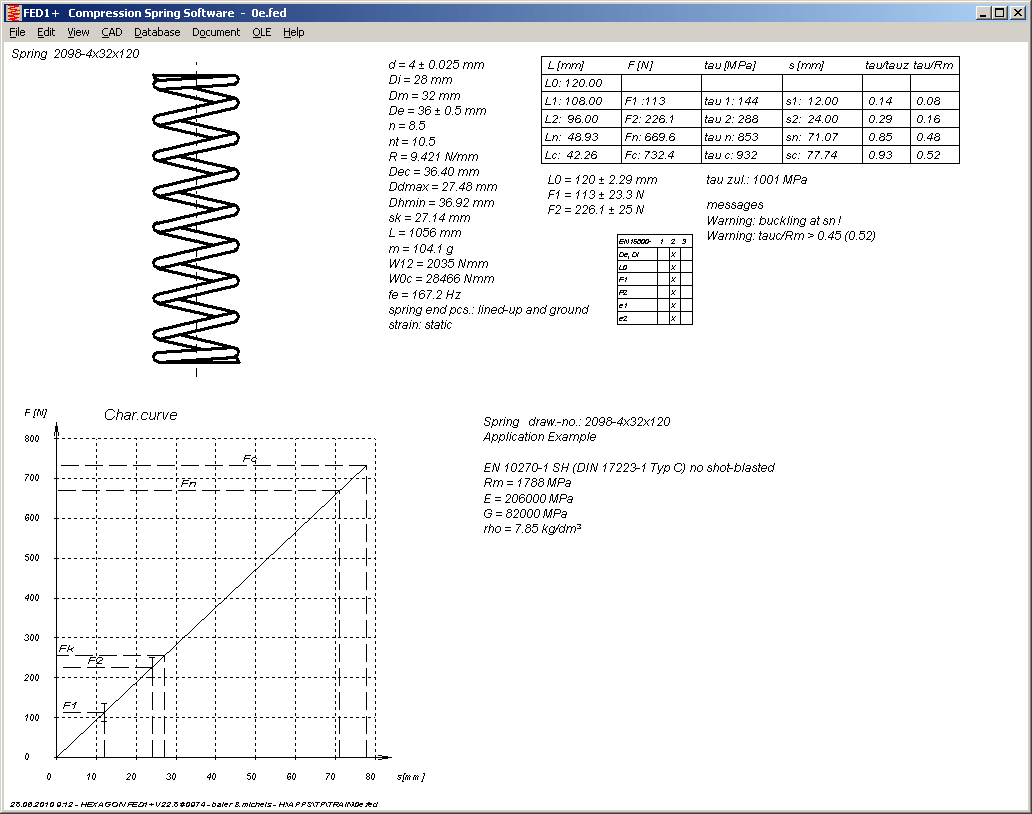 ---
Production Drawing: Printout without Drawing Header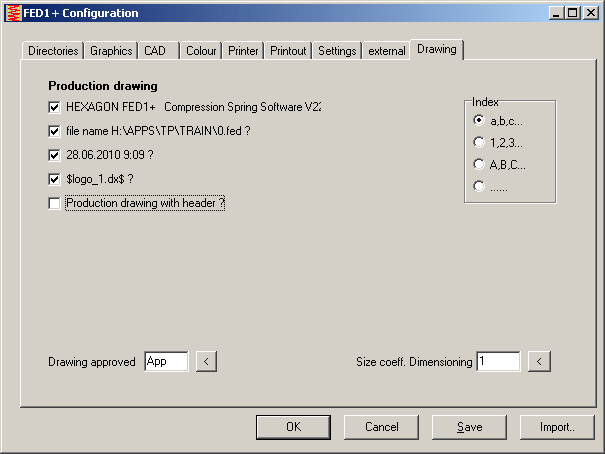 If you want to transfer the production drawing without drawing header into CAD (for to add your own header), you now can reset the option "production drawing with header" at "File->Settings->Drawing". But consider that drawing name, drawing number, modifications are not included in this case.
---
Pricelist | Order | E-Mail | Homepage