English Deutsch
---
Info Letter No. 107 - Jan./Feb. 2008
by Fritz Ruoss
---
WN1 – Tapered Interference Fit with Stepped Hub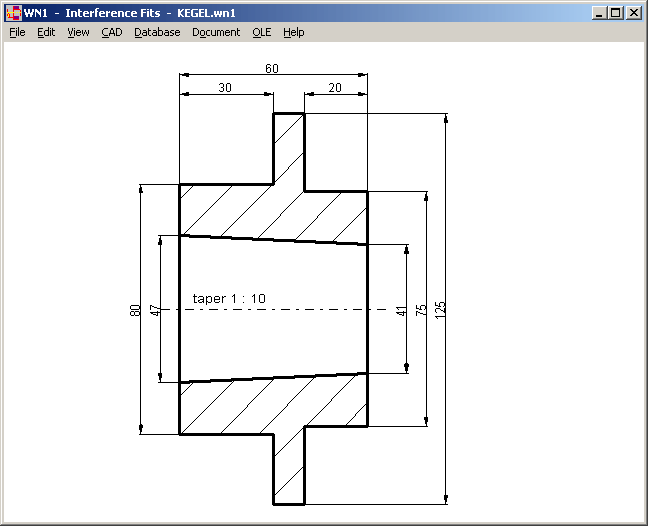 In earlier versions, WN1 calculated assembly load of tapered interference fits for constant cylindrical hubs only. On new release 10.0, you can enter and modify overlapping dimension U until safety coefficients are higher than 1. For stepped hubs, WN1 calculates mounting force and dismantling force by sum of the hub segments.
---
WN1 – Assembly Temperature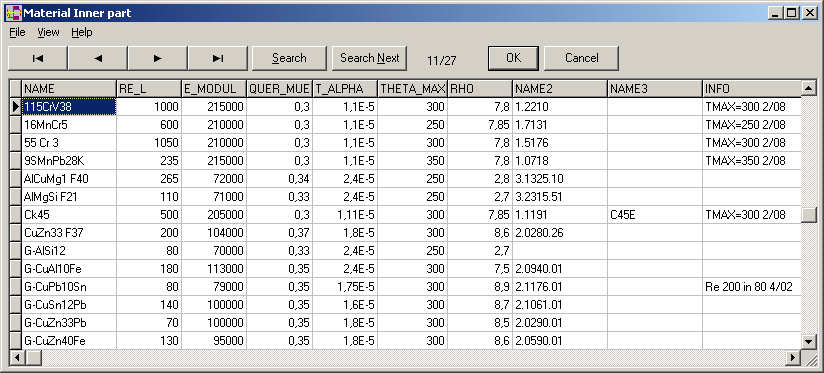 Permissible assembly temperature of some materials in the WN1 material database was too high and had to be reduced according to the values of DIN 7190: Steel, GG, GGG: 350°C, heat-treated St, GG: 300°C, surface hardened St: 250°C, case-hardened St: 200°C.
---
SR1 – Bolt Input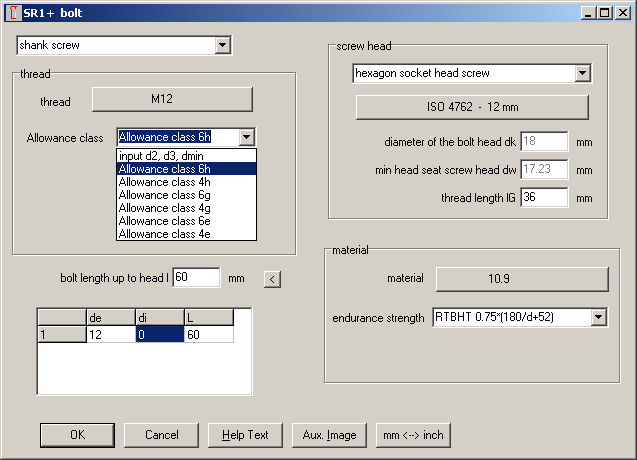 New alternative input for bolt data: at "Edit->Bolt->New" you can input bolt data as usual (step by step). At "Edit->Bolt->Edit", you find all input data in one window. Of course, you can also define new bolts here, but pay attention to enter data in correct sequence (type, thread...).
---
SR1 – Thread Strip Safety and Minimum Thread Length Engaged
SR1 calculates two values for thread strip safety:
Minimum thread length engaged: thread strip safe, fracture of bolt if overloaded
Thread strip safety calculated for effective tightening torque and load (FSmax = FM,max + FSA)
SR1 calculates minimum thread length engaged (pos.1) according to method VDI 2230 and according to Dose. Thread strip safety for real existing load (pos.2) is not considered in VDI 2230.
Thread strip safety "tau p / tau B,M" according to Dose was replaced by "tau Rm / tau B,M", because the earlier method calculates too high results in some cases.
Additionally, thread strip safety at FM+FSA based on VDI 2230 has been added in SR1 V15.1 according to this formula:
tau Rm / tau B,M = m / mmin,VDI * F Rm / (FM,max+FSA)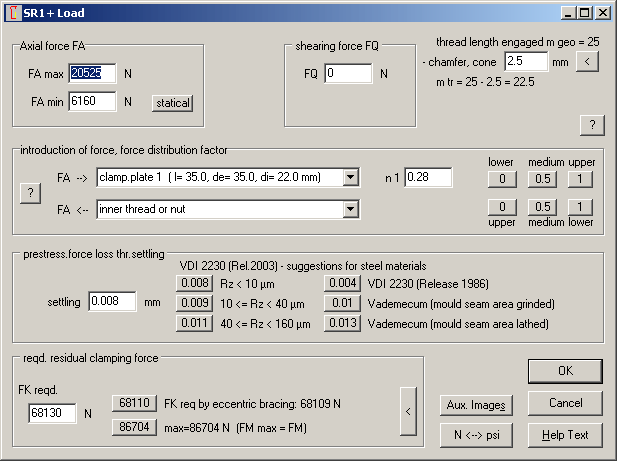 Chamfers at nut thread and cone at bolt thread reduce effective thread length. This effect may be considered now at "Edit->Load". We recommend reduction between 1.0 and 2.0 of thread pitch. A mouse click into "<" button sets 1.0 * P.
---
ZAR1+ Gear Drawings
"View->Gear Geometry->Gear 1+2" generates a drawing of the gear pair.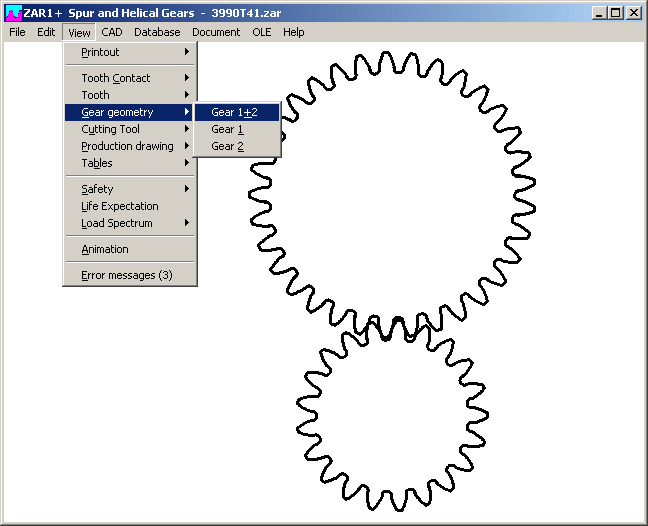 ---
ZAR1+, ZAR2, ZAR6 – Revolutions and Torque of Pinion or Gear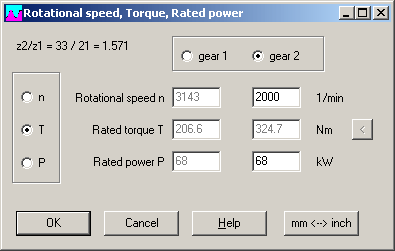 Now you have the choice to enter torque and speed for the driving gear or for the driven gear.
---
GEO3 – Deformation Cylinder-Cylinder and Cylinder-Plane
For pairs Cylinder-Cylinder and Cylinder-Plain, deformation w and spring rate R is calculated now from length of contact axis a1. For this pressure pairs, deformation increases proportional with load, and spring rate is constant.
---
FED1,2,3,5,6,7,11: New Spring Material Springflex (1.4462 X2CrNiMoN 22-5-3)
New spring steel wire "Springflex" from Sandvik has been added to material database. "Springflex" replaces "SAF 2205" of Sandvik. Customers can download datasheet and dbf files from our server.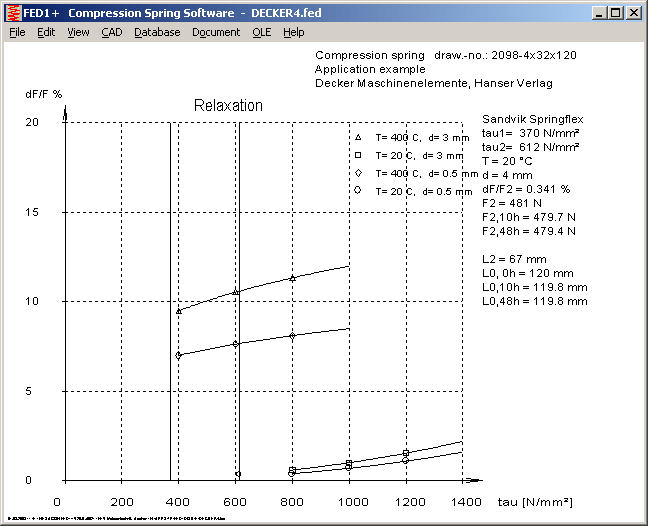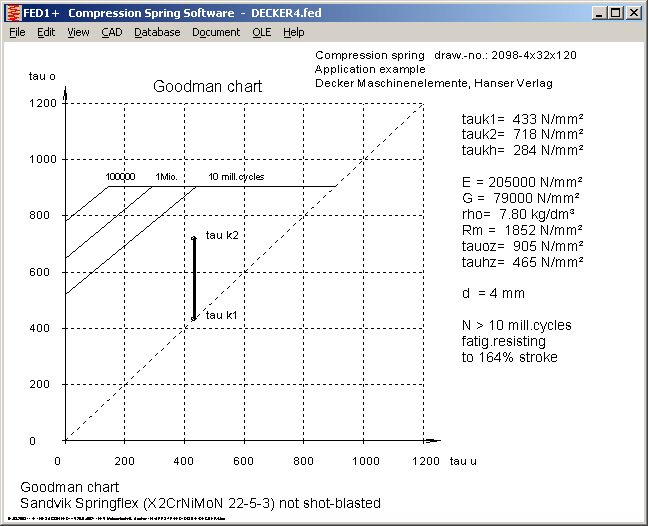 ---
FED1,2,3,5,6,7,8,11: Database Button
A click to Database button opens datebase window with spring materials.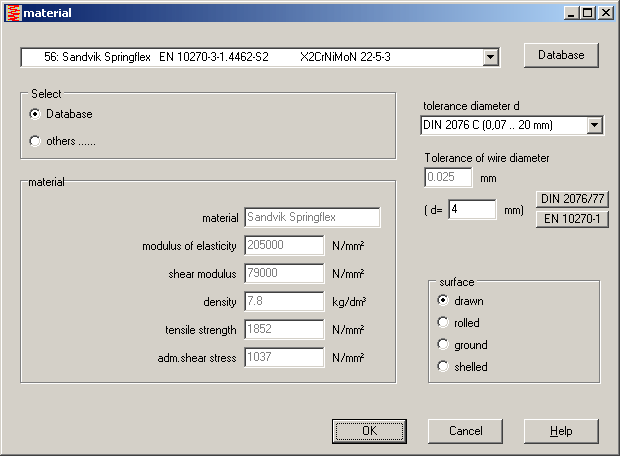 By a mouse click of the right button into the header, materials will be sorted to the desired property.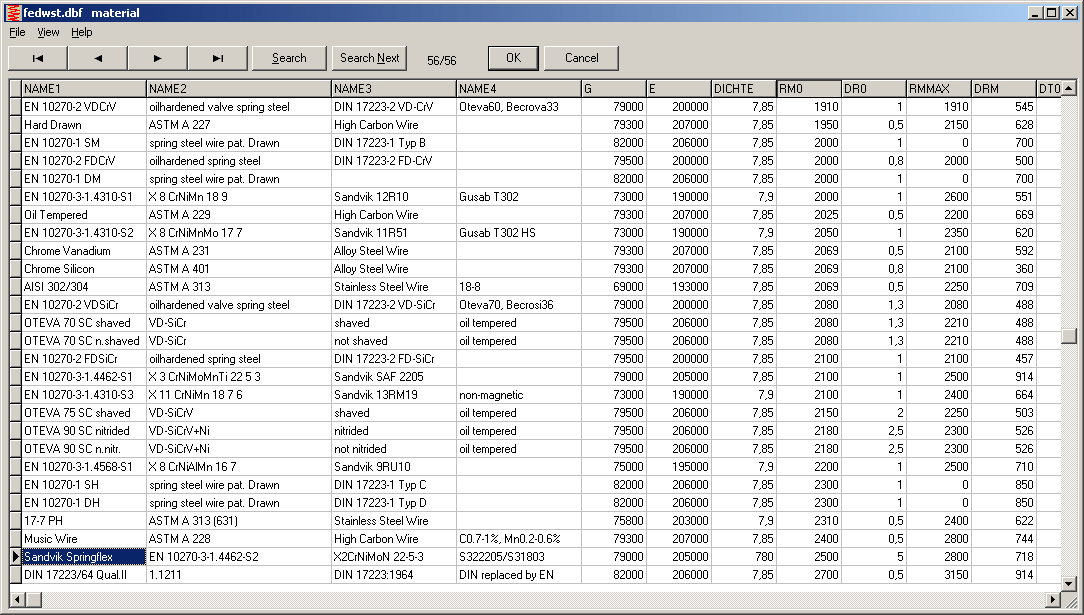 ---
Pricelist | Order | E-Mail | Homepage