| Deutsch | Francais |
---
F E D 4
Software for Calculation of Disk Springs
(C) Copyright 1991-2019 by HEXAGON Software, Berlin
---
Calculation Basis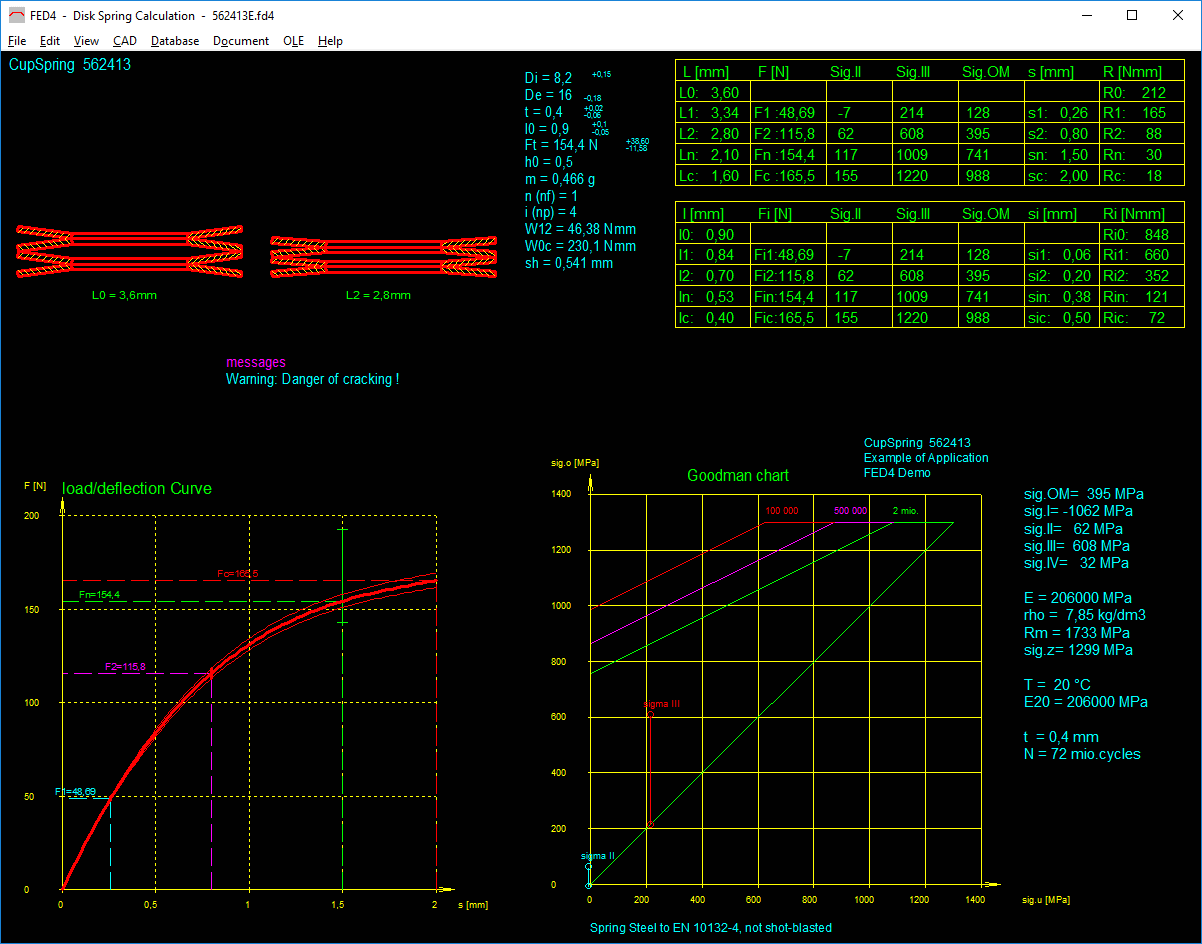 The FED4 software calculates cup springs and cup spring packages in accordance with DIN 2092. Two calculation methods are supported:
Dimensioning: A cup spring package is calculated after input of travel and dimensions as close as possible to the required starting data.
Re-calculation: By entering the dimensions, number of springs per package and number of spring packages the software calculates the forces and stresses for the stated spring travel.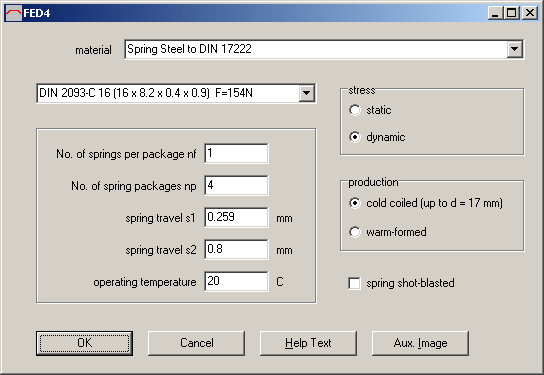 Cup Springs in accordance with DIN 2093
The program provides the dimensions and characteristic values for all cup springs in accordance with DIN 2093.
Material Data
The data for all materials in accordance with DIN 2093 are included in the program. In addition, you can define further materials by entering elasticity modulus, cross-number, density and tensile strength.
Diagrams
The force path diagram can be displayed on screen showing the degressive spring characteristic line of the cup spring.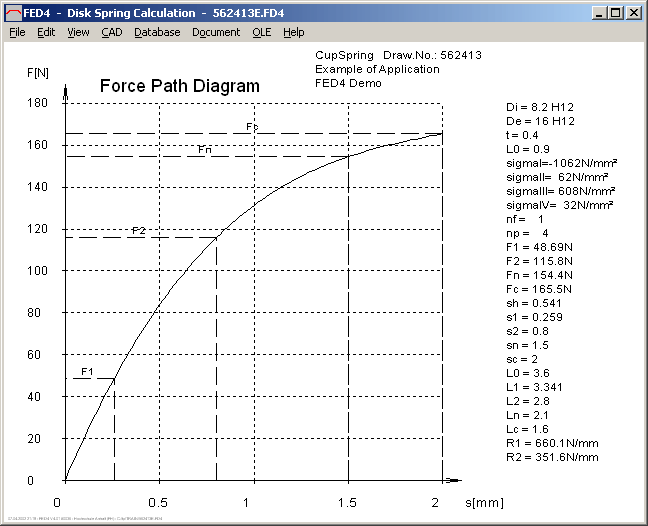 The stress diagram shows the stress course for the critical points on the cup spring.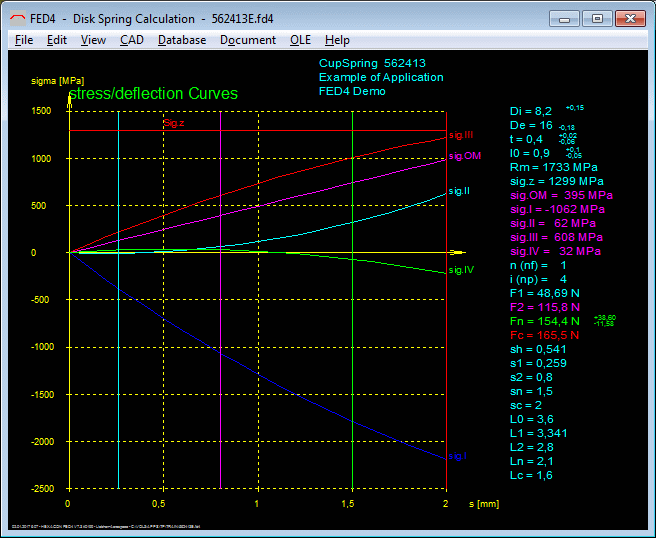 The Goodman diagram provides important information about tensile strength and life expectancy with dynamic load.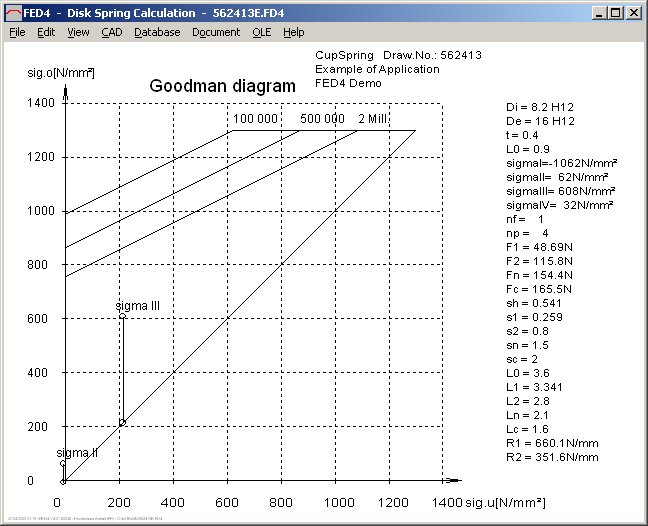 All diagrams can be printed out or used in your documentation via DXF files or the clipboard in Windows.
On-Line Input
On-line input provides the advantage of having the most important entries and results together on the screen with possible warnings and error messages. After each entry, a new calculation is carried out in a split second and you can see how changing the input values effects the results.
Help
You can have help text or a help picture displayed in the dialogue window.
Printout
You print out the input values and calculation results on three pages. You can print the most important data on one graphic screen (Quick). You can output on screen, printer, to file or into the Windows clipboard.
CAD Interfaces
FED4 allows you to generate the cup spring drawings and diagrams as DXF or IGES files and export them to CAD programs.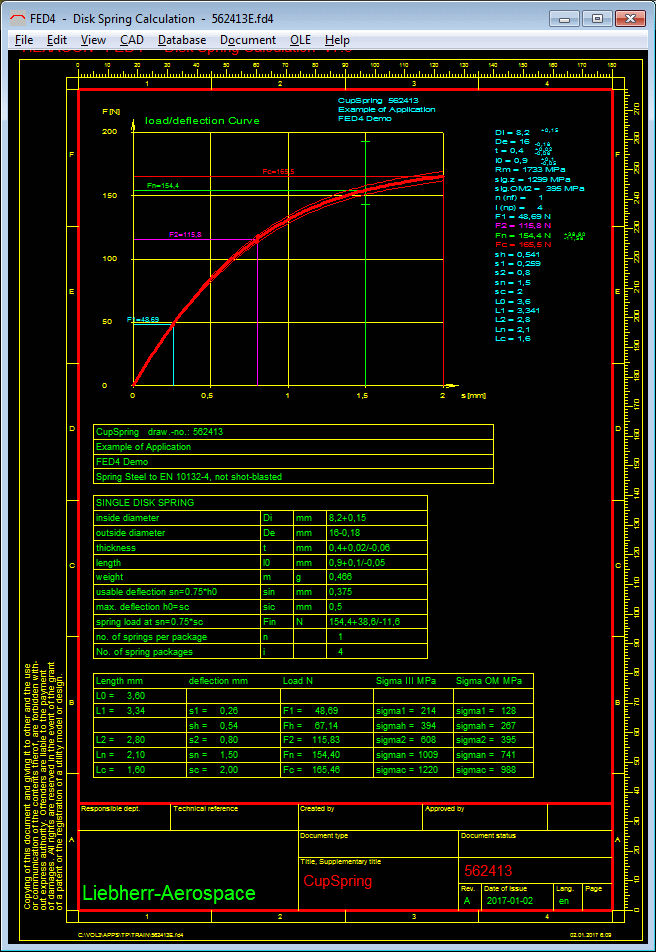 Warnings and Error Messages
Warnings and error messages appear when permissible spring travel, tension and standards are exceeded. For each message you can have a description and remedy suggestion displayed on screen.
Hard and Software Requirements
FED4 is available as 32 bit or 64 bit application for Windows 7, Windows 8, Windows 10.
Scope of Delivery
FED4 program, User manual (pdf), License agreement for unlimited right-to-use time.
Guarantee
HEXAGON gives a 24 month guarantee on full functionality of the software.
Software Maintenance
HEXAGON Software is continuously improved and updated. Customers will be informed regularly of updates and new editions.
---
---
Pricelist | Order | E-Mail | Home