English Deutsch
---
F E D 1 1
Software for Calculation of Spring Locks
(C) Copyright 2002-2013 by HEXAGON Software, Berlin
---
Calculation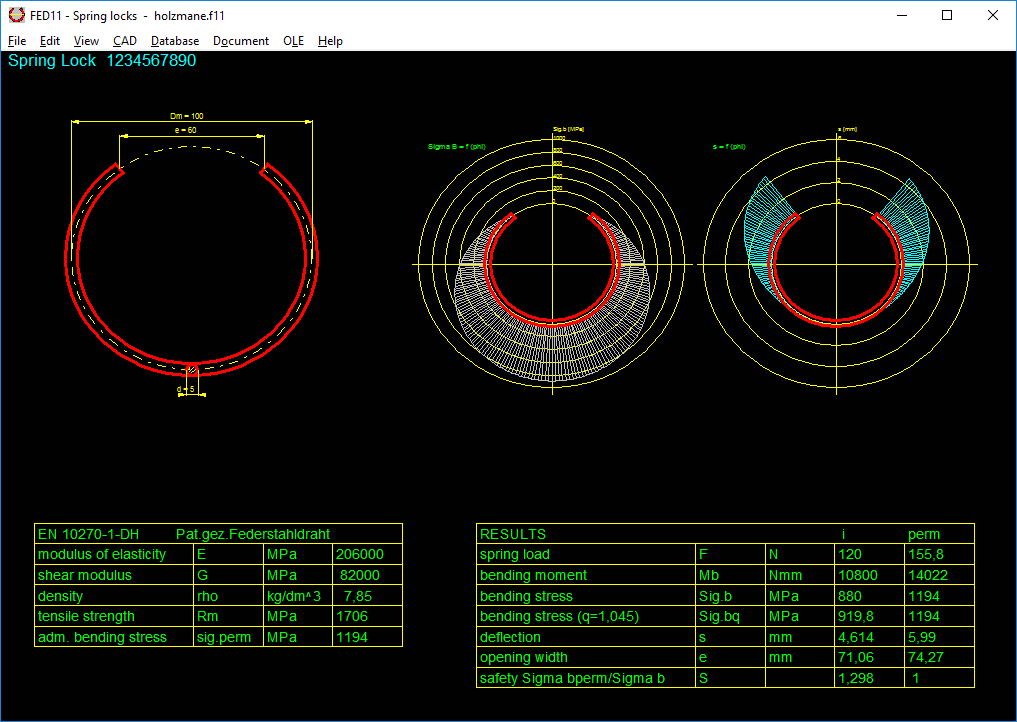 FED11 calculates admissible spring load and deflection of spring locks. FED11 shows stress curve and bending curve for a given spring force.
Spring Lock Geometry
Wire section of the spring lock may be circular, square, rectangular, elliptic or oval. You can enter spring lock geometry, or load standard dimensions from database with spring locks according to DIN 7993.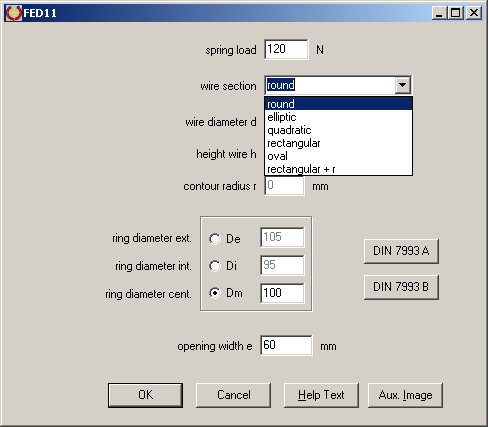 Material Database
The integrated material database includes mostly used spring materials. You can append database by other material data.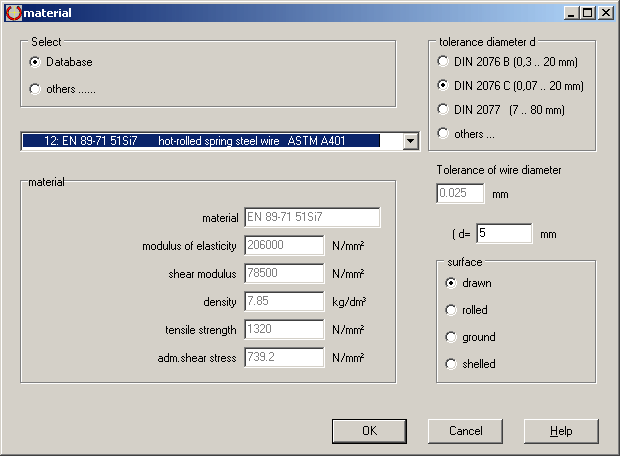 Spring Lock Database
Standard spring lock dimensions according to DIN 7993A and DIN 7993B can be selected from integrated spring lock database.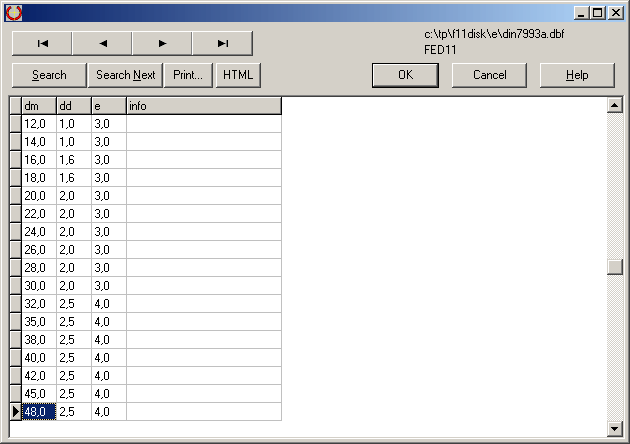 Diagrams
FED11 calculates bending curve and deflection curve of the spring lock. Diagrams can be printed out or exported to documentation via DXF or clipboard.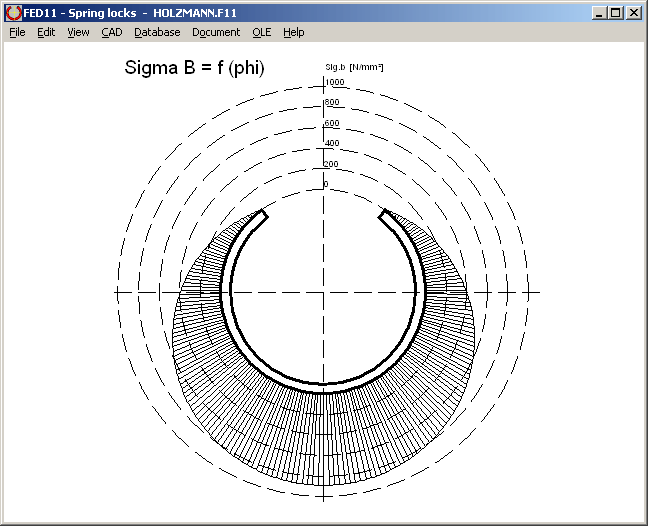 Quick-View
Quick-View shows spring drawing, diagrams with bending and deflection curve as well as table of results together on one screen.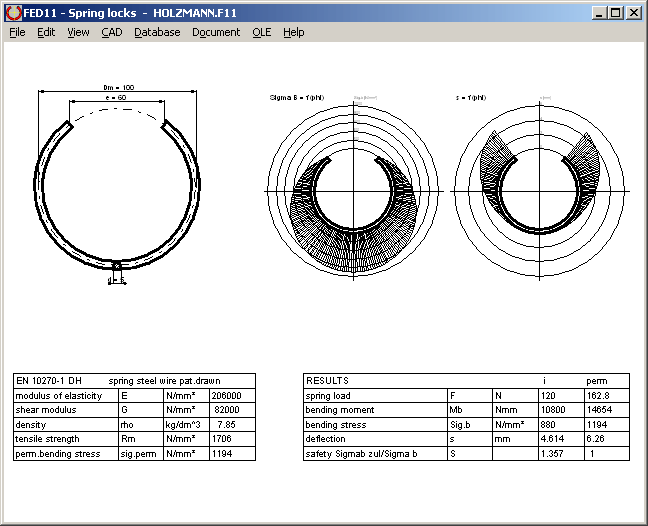 Printout
Calculation results with extreme values of bending moment, deflection, stresses and safety as well as material data and input values can be printed, saved as text or HTML file, or exported to MS-Excel.
Drawing
FED11 generates a true-scale drawing of the spring lock (dimensioned or not) to be loaded with CAD as DXF or IGES file.
Production Drawing
FED11 generates a production drawing with all dimensions of the spring lock. Drawing information and modification index can be entered within FED11.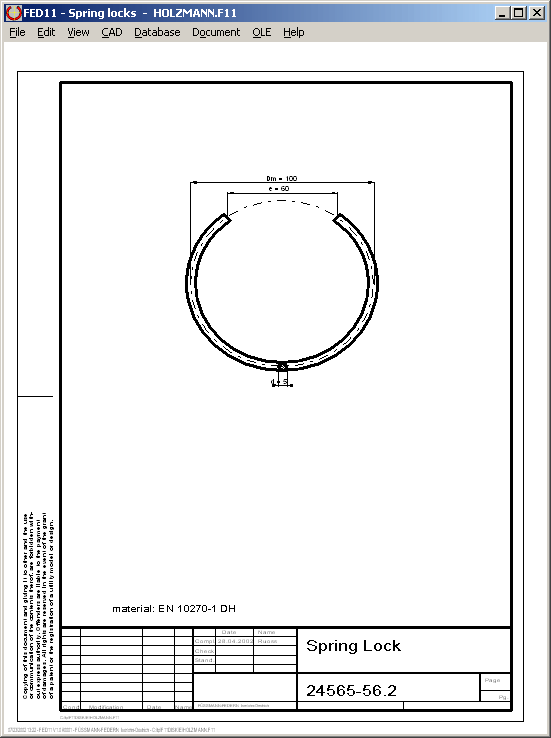 Interfaces
All drawings and diagrams can be saved as DXF or IGES file to be loaded with CAD programs. The OLE interface of FED11 lets you import/export data from/to Excel.

HEXAGON-Help System
Auxiliary text and images are available for all dialogue windows. If error messages occur, you can get description and remedy suggestion.

System Requirements
FED11 is available as 32-bit and 64-bit application for Windows XP, Vista, Windows 7, Windows 8.
Information and Update Service
HEXAGON Software is continuously improved and updated. Customers are regularly informed about updates and new editions.


---
---
Pricelist | Order | E-Mail | Homepage